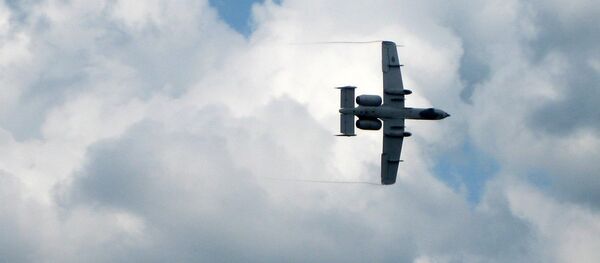 21 September 2016, 15:54 GMT
It appears that the Syrian army is preparing for an attack on Maardes, located north of the city of Hama. It's located on the main highway linking Damascus to
Aleppo
, and is controlled by the terrorist group Jund al-Aqsa, the Russian newspaper
Vzglyad
quoted military expert Yevgeny Krutikov as saying.
In his Vzglyad article,"The Syrian Army is Close to Destroying a Very Suspicious Group," Krutikov recalled that the Salafist jihadist rebel group Jund al-Aqsa was notorious for its use of drones during the fighting and the fact that it was previously funded by Washington. 
Right now, the group, which is allied with the Free Syrian Army, controls several villages in the north of Hama province in western Syria, but is trying to further expand its clout, according to Krutikov.
To that end, Jund al-Aqsa launched several attacks in the direction of the administrative center of the province and the military airfield, he wrote, adding that the group is currently based in Maares, which is strategically located near the Damascus — Homs — Hama – Aleppo motorway, also known as the M5 highway.
In this regard, it is worth looking into a brief history of Jund al-Aqsa, a group which was designated by the US State Department as a terrorist organization on September 20 and which was first founded as a subunit within the al-Nusra Front.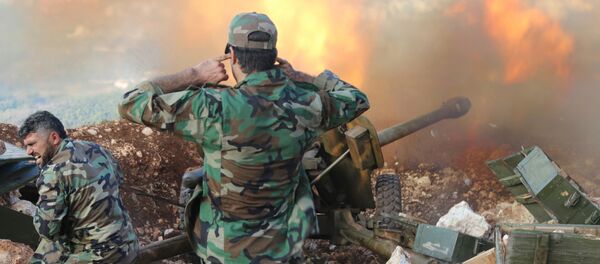 20 September 2016, 13:30 GMT
Jund al-Nusqa was reportedly composed of mostly non-Syrian Arab militants in early 2014, but by the end of that year it became a Syrian-majority group, partly because of defections from other Syrian rebel groups.
In February 2014, Jund al-Aqsa managed to seize the town of Ma'an and massacred more than 21 Alawite civilians, half of them women and children.
In the 2016 offensive on the town of Khanasir near Aleppo, Jund al-Aqsa and Daesh terrorists temporarily cut off the Syrian government's supply route to Aleppo, reportedly sharing war booty captured from Syrian forces before retreating.
© REUTERS / Ammar Abdullah
Terrorists from the Jund al-Aqsa group man a checkpoint in Taybat al Imam town after they advanced in the town in Hama province, Syria August 31, 2016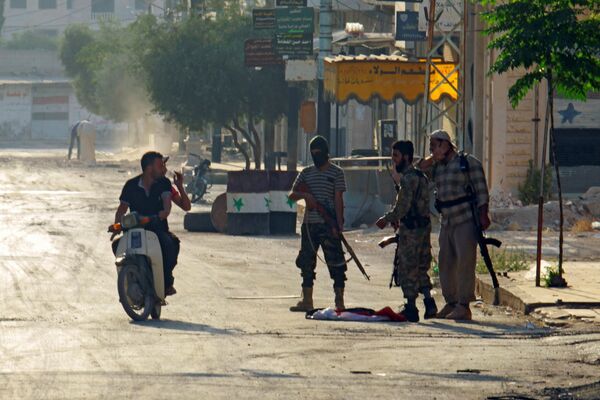 Terrorists from the Jund al-Aqsa group man a checkpoint in Taybat al Imam town after they advanced in the town in Hama province, Syria August 31, 2016
In late August 2016, Jund al-Aqsa announced an offensive in northern Hama Governorate, during which it successfully used unmanned aerial vehicles to drop bombs.
"Even American sources admit Jund al-Aqsa has repeatedly used drones both for reconnaissance and firing purposes. The big question is how this small-sized terrorist group gets the drones, given that Jund al-Aqsa is isolated from the main supply routes in Syria," Krutikov said.
He added that at the moment, the time is right for a rapid attack on Maares, which he said will help the Syrian troops regain control of the M5 highway.
"The possible destruction of Jund al-Aqsa will also help clarify a whole array of interesting things, especially about the group's drones and the real name of one of the group's leaders, currently referred to as Abu Abdul Aziz al-Qatari," Krutikov said.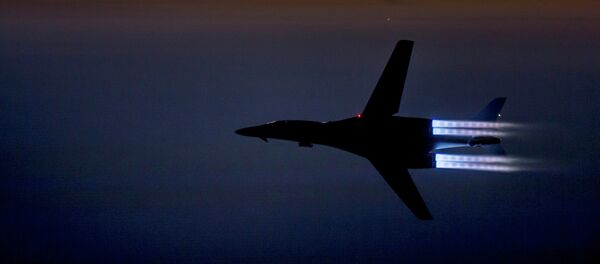 22 September 2016, 14:27 GMT
Syria has been mired in
civil war
since 2011, with government forces loyal to Assad fighting against numerous opposition factions, including the Western-backed "moderate opposition," and extremist groups, such as Daesh, which is banned in a range of countries including Russia and the United States.
Russia has been assisting the Syrian forces in their anti-terror campaign, launching airstrikes against Daesh targets in Syria at the request of President Assad and in accordance with international law since late September 2015. Russia has also been providing humanitarian assistance to the people of Syria, including through joint efforts with the Syrian government.
A US-led international coalition has been conducting a separate military campaign against Daesh in Syria since September 2014, without the approval of Damascus or the UN Security Council.