Named in the lawsuit are Glenn Beck and his media platform TheBlaze; Fox News; Irving mayor Beth Van Duyne; the Center for Security Policy and its executive vice president, Jim Hanson; Ben Ferguson, and journalist Ben Shapiro.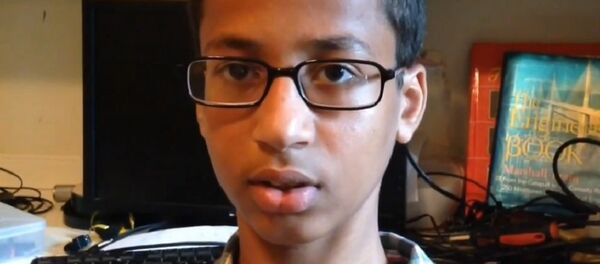 16 September 2015, 15:10 GMT
Ahmed Mohamed, nicknamed 'clock boy,' made international headlines after the teenager was arrested and charged with having a fake bomb. Mohamed explained that it was a homemade clock he brought to impress a teacher at his school in Irving.
Officials in Irving later determined that no crime had been committed, but the boy's school suspended him for three days.
Following the story going globally viral, the teen was invited to the White House, met US President Barack Obama and, later, visited with the president of his home country of Sudan, Omar al-Bashir, a wanted war criminal accused of orchestrating a genocide during the Darfur conflict, beginning in 2003.
The teen and his family accepted the Sudanese president's invitation, in spite of the charges, stating that it would have been rude to refuse. Ahmed's father is a Sudanese immigrant to the United States, and himself a former presidential candidate in Sudan, who ran against Bashir last year.
The family then picked up and moved to Qatar, where the teen was offered a scholarship.
The 21-page lawsuit cites multiple statements made by commentators and news organizations, which they point out are false.
"My theory is that for some reason Irving is important to the Islamists, not the Muslims, but the Islamists. It could be as simple as the progressives trying to turn Texas blue, and this is just the place where they're just going to start planting the seeds and taking a stand. You pissed them off, and now this is a dog whistle. This is not a story that is for anybody to hear, except for the Islamists because once you create a boogeyman, now all the money, all the resources, all the intellectual power, all is focused on your little town of Irving, Texas," the complaint quotes Beck saying to Van Duyne, Courthouse News reports.
It then quotes Hanson agreeing with Beck, saying, "Think it's happening. I don't think there's any question that this latest event was a PR stunt. It was a staged event where someone convinced this kid to bring a device that he didn't build, as you mentioned. It's a Radio Shack clock that he put in a briefcase, and in a briefcase it looks like a bomb… They did that to create the exact scenario that played out. They wanted people to react, and they wanted to portray this kid as an innocent victim. I think he was a pawn of potentially his father. His sister actually claimed that she was suspended. His sister told MSNBC that she was suspended by the same school district for making a bomb threat years ago. Don't know if that's true yet, but she said that in her own words. So, there's a vendetta from them, and they're tied, as you mentioned, with CAIR and CAIR is Muslim Brotherhood and Hamas-tied. They're basically involved in civilization jihad, so I think you're right."
It further quotes Shapiro claiming that, "This was a hoax, this was a setup and that President Obama fell for it because it confirms a couple of his pre-stated biases against police and against people who he perceives to be Islamophobic."
Another quote cited in the complaint comes from an interview with Van Duyne that aired on Fox-affiliate KDFW, in which the mayor claimed that the family was "non-responsive" about requests to release records relating to the incident.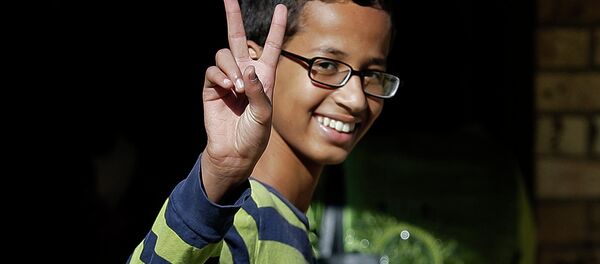 "These statements are false and were made negligently and/or with malice," Mohamed says in the lawsuit. "Ahmed did not take a 'hoax bomb' to school. He never claimed that it was a bomb, threatened anyone or attempted to scare anyone. Ahmed answered all questions about his alarm clock and his intent. The City never made a request to the family for permission to release records."
The lawsuit seeks retraction and corrections, as well as acknowledgement that "the original broadcast was false, erroneous and stating that the Mohamed family are peaceful Muslims who have been falsely accused of being terrorists and engaging in a jihad." Specifically, the lawsuits demands that the outlets state explicitly that "the arrest and suspension of Ahmed Mohamed was not a stunt and it was not pre-planned, staged or engineered by anyone, including Mohamed Mohamed. Ahmed was a young man eager to please his teacher and took a contraption to school as a crude alarm clock. The alarm clock was placed in a pencil box that Ahmed had from the 7th grade — not into a briefcase."
The family has also filed a civil rights lawsuit against the city, the Irving Independent School District, and principal Daniel Cummings, accusing the district of having a long history of struggles with racism.
In November 2015, attorneys for the teen announced that they were seeking a $15 million settlement, renewing calls that the incident was a set up. Letters sent to those named demanded $10 million from the city of Irving and $5 million from the Irving Independent School District. The letters also demanded written apologies and threatened further lawsuits.
His attorneys claimed that the high school student suffered "severe psychological trauma" from the events and that his "reputation in the global community is permanently scarred."
"If you fail to comply with the above demands within 60 days from the date of this letter, you should expect that we will file a civil action addressing the causes of action and events described in this letter," one of the letters concluded. That lawsuit was filed in August.