The business daily pointed out that the Russian energy giant has been forced to change tack recently in moving forward with the project. This took place after UOKiK, Poland's anti-monopoly watchdog, blocked Gazprom from issuing shares to its five partners on the project (Germany's BASF and Uniper, France's Engie, Austria's OMV and Royal Dutch Shell). These companies had been set to take a 10% stake each in the Nord Stream II consortium. 
Nevertheless, Gazprom did not shelve the project, opting instead to turn it into a 100% Gazprom-owned subsidiary, and hoping that its Western European partners could contribute to in other ways.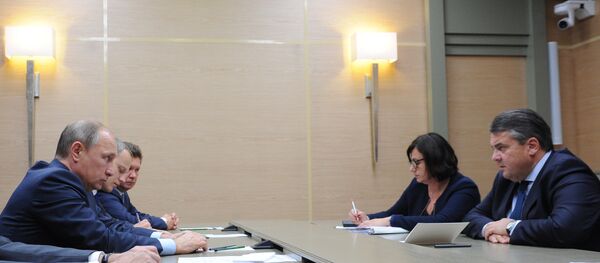 21 September 2016, 14:19 GMT
Meanwhile, FT noted, Nord Stream II's European backers continue to include "senior German politicians including, it seems, Chancellor Angela Merkel. They say Nord Stream II will 'eliminate transit risks' – a euphemism for enabling Russian gas exports to Europe to bypass Ukraine." 
The paper recalled that Russian-Ukrainian disputes in 2006 and 2009 had resulted in Gazprom cutting off supplies to Ukraine, which affected deliveries to the rest of Europe. What it left out were the details of that story: that Kiev first issued the Russian company with ultimatums on gas prices, and then began illegally siphoning transit gas supplies for itself, resulting in the Russian shutoff until the dispute could be resolved.
Last month, independent energy consultant Ilian Vassilev suggested with extreme certitude that the Polish regulator's decision had effectively "defeated" the Russian project, which he said would now have trouble going forward, given the state of its finances and its credit rating. 
FT, however, emphasized that Gazprom will be unlikely to "give up that easily." It has already "signaled it will announce agreements with its European partners and give an update on its plans at the St. Petersburg gas forum," taking place in Russia's northern capital on October 4-7.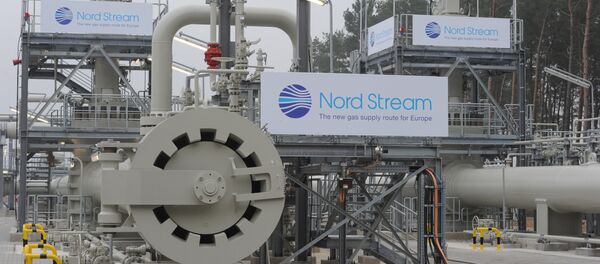 16 September 2016, 11:56 GMT
"It also formally
applied for permission
this month to build two new lines parallel to Nord Stream I, opened in 2011, along Sweden's continental shelf," the paper added.
The reason for Gazprom's persistence, according to the newspaper, is that the energy company sees Nord Stream II as something more than a commercial project. In fact, FT insisted, "it's difficult to see Nord Stream II…as anything other than a geopolitical game."
"Gazprom's projects," the paper explained, appear to be aimed first of all "at ending Ukraine's role as a transit country for Russian gas by the time the current transit contract with Kiev expires in 2019."
"That might seem understandable given the impact of past gas squabbles between the two countries," FT admits. "But it also serves the Kremlin's agenda by stripping Kiev of several billion dollars a year in transit fees." EU Energy Commissioner Marcos Sefcovic even told the paper that Nord Stream II was a "sort of punishment" against Kiev for the February 2014 Euromaidan coup.
Vassilev, meanwhile, suggests there are even larger motivations at play, including "forg[ing] a new 'strategic bond' with Germany, the landing point for Nord Stream II, by turning it into a European hub for Russian gas."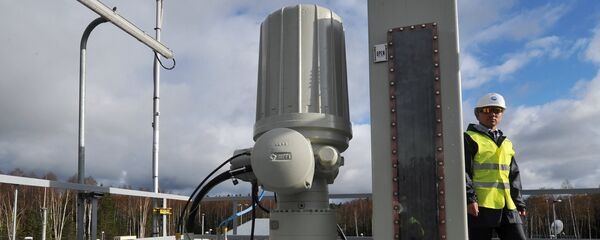 8 September 2016, 07:08 GMT
"That could benefit German industry by offering it lower gas prices but could be exploited by Russia politically in the future," FT warned.
The British newspaper may be on to something as far as Ukraine is concerned. It would be difficult to find a sensible reason for Moscow to continue to support a government which has consciously chosen to cut every imaginable form of cooperation with Russia, even to the detriment of Ukraine's own economy and the state budget. For political reasons, Kiev has gone so far as halting the purchase of Gazprom gas, in favor of 'European gas' (which is also Russian gas, rerouted from Europe and sold back to Kiev at higher prices). In this respect, Kiev has been 'punishing' itself well enough; it doesn't need Russian help.
As for Vassilev's suggestion that Nord Stream II is being used to boost Russian-German ties, he's not wrong – except there's nothing sinister about it. Germany, and Western Europe as a whole for that matter, is looking for a reliable partner in the supply of energy, and Eastern Europe (including not just Ukraine, but also the Baltic States and Belarus) have shown again and again that they are ready to use their transit status as a weapon. In that respect, one would have to squint really hard to see the malice in a Russian effort to bypass these countries.
As for FT's concerns that Moscow might somehow 'exploit Germany politically' using Nord Stream II, the repeated gas disputes between Gazprom and Ukraine have shown time and again that when it comes to transit countries and energy hubs, the country supplying the gas is just as vulnerable to political manipulation as the country receiving it. The difference between Berlin and Kiev is that the former has a strict business interest, is willing to pay for the supplies it receives, and has no interest in playing politics with energy.