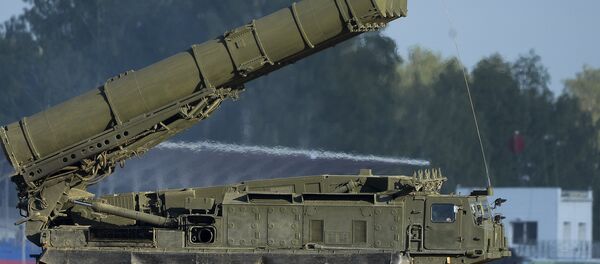 4 October 2016, 16:15 GMT
WASHINGTON (Sputnik) — Earlier on Tuesday, Russia's Defense Ministry said a battery of S-300 systems had been dispatched to protect a naval base at the port of Tartus and Russian warships deployed off the Syrian coast.
"I am aware of recent reports that that kind of military equipment has been transferred to Syria… this equipment contradicts President Putin's own claims that their efforts in Syria are focused on extremists," Earnest told reporters. "I'm not aware that ISIL [Daesh] or al-Qaeda in Syria is operating aircraft there."
Defense Ministry spokesperson Maj. Gen. Igor Konashenkov emphasized that the S-300 is a defensive system.
According to media reports, the variant deployed in Syria is S-300V4 (NATO designation SA-23 Gladiator), which is capable of striking tactical and strategic aircraft, medium-range ballistic missiles, tactical missiles, as well as cruise missiles.