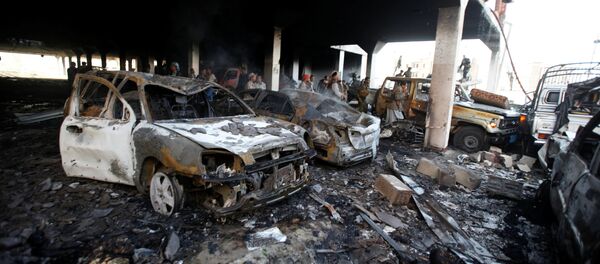 9 October 2016, 00:47 GMT
MOSCOW (Sputnik) — On Saturday, the airstrike hit the funeral ceremony in Sanaa. According to UN estimates, the attack claimed over 140 lives and left more than 525 people wounded, while media suggested that 213 people may have been killed. The Saudi-led Arab coalition denied allegations of the Houthi rebels that it was involved in the incident.
"I call upon all members of the armed forces, security and popular committees…to head to the front, to the borders, to take revenge," he said in a televised address, as quoted by the Middle East Online media outlet.
Yemen has been engulfed in a military conflict between the government headed by Yemeni President Abd Rabbuh Mansur Hadi and Houthi rebels since 2014. The Houthis are backed by army units loyal to Saleh.
Since March 2015, the Saudi-led coalition of mostly Persian Gulf countries has been carrying out airstrikes against Houthis at the request of Hadi.