China has been building artificial islands on reefs and rock outcroppings in the Spratly and Paracel archipelagos over the course of the past two years. During this period small clusters of sensitive reef habitat have been turned into large islands, with various structures, including a 3,000-meter runway.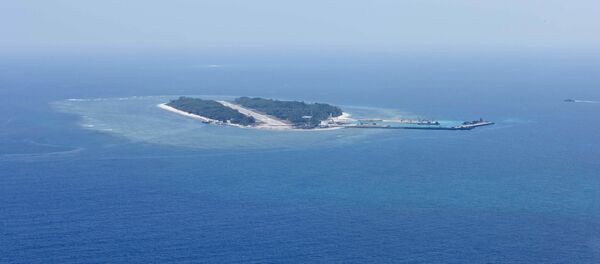 11 October 2016, 19:05 GMT
Beijing has claimed that islands are built for civilian purposes, including rescue operations. However, nations claiming rights for the disputed South China Sea areas, alongside the US, have consistently claimed that the artificial islands are military in nature.
In a recent development, the National Geospatial-Intelligence Agency (NGA), a Pentagon-based group providing and analyzing imagery intelligence gathered with the use of satellites, has claimed that it has proof that Chinese construction efforts in the South China Sea are not civilian in nature.
Speaking at a recent congressional hearing, NGA head Robert Cardillo explained that the agency analyzed imagery taken from satellites, and had spotted "military-related structures and equipment that at least gives the Chinese the option to permanently post military forces in and on these islands."
Without providing details on the kind of equipment observed on the artificial islands, Cardillo speculated it could be associated with aircraft-control missions, weapons-handling missions, as well as aviation-fuel storage.
Carrillo stated that the NGA imagery is appropriate for making assessments about China's intentions regarding the South China Sea.
"We're able to put the framework on the table that says, 'Here are the facts on the ground. Here's what's happened over time. Here's who's being most aggressive or most provocative in the development.' And then one can have a more informed debate about what's the purpose behind that island."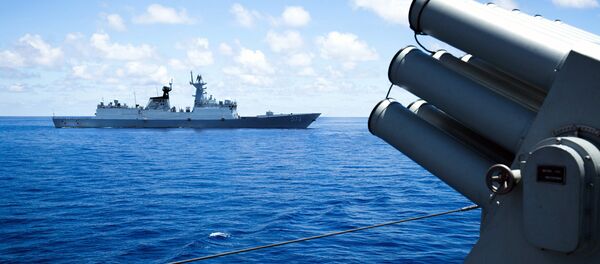 30 September 2016, 21:19 GMT
NGA imagery has been included for the first time in an annual Pentagon report this year. In the report, construction on Chinese artificial islands is labeled as "low-intensity coercion."
"When complete, these outposts will include harbors, communications and surveillance systems, logistics facilities, and three airfields," the report stated, adding they will "enhance [China's] presence in the South China Sea significantly and enhance China's ability to control the features and nearby maritime space."
Earlier this year, the Hague Permanent Court of Arbitration ruled that China has no historic rights to the South China Sea, in a trial brought by the Philippines. China says the court has no jurisdiction in the matter.
Beijing claims the entire territory of the sea, rich in mineral resources and crossed by important trade routes. China's claims have been contested by Malaysia, the Philippines, Vietnam, and Taiwan, as well as Brunei.