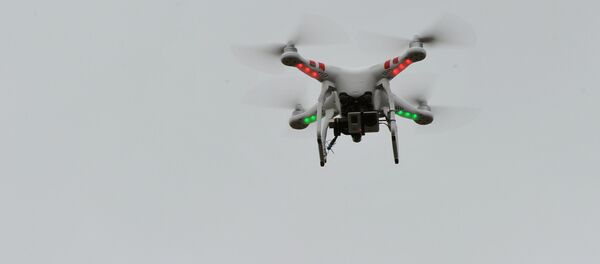 12 October 2016, 13:28 GMT
There has been plenty of evidence that extremist groups in the region, including Daesh and Hamas, use a variety of surveillance drones to collect information and to improve precision targeting. Most of the groups, except for the Iran-backed Hezbollah, only have access to commercial or hobbyist drones generally available online. Those cost upwards of $3,000 and don't weigh enough to support a large bomb or rocket.
But newly surfaced video demonstrates that the groups have now weaponized their drones. Footage belonging to an al-Qaeda branch, Jund al-Aqsa, purportedly shows a drone landing on Syrian military barracks. In another video, bomblets presumably dropped by Hezbollah hit a camp of the Sunni militant group Jabhat Fatah al-Sham, formerly known as the Nusra Front.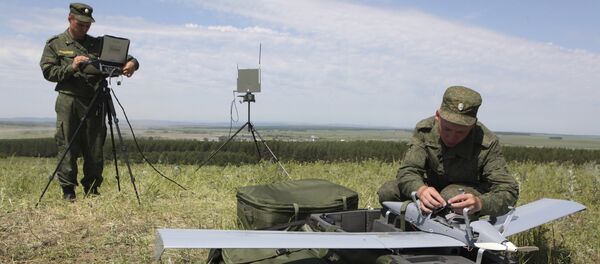 5 October 2016, 07:22 GMT
According to a Pentagon official speaking on condition of anonymity, the US military is aware of the development and troops are being told to take cover if they detect what appears to be a surveillance drone.
Although the technology is not a significant threat and cannot change the balance of power in the Middle East, the mere fact that insurgents have shown to possess what is typically believed to be beyond their capability is disturbing, according to a senior fellow at the New America Foundation, Peter Singer.
"We should have been ready for this, and we weren't," he told the New York Times.
Chris Woods, the head of the Airwars project, which tracks the international air war in Iraq, Syria and Libya, added to the concern, suggesting that there are too many methods to weaponize drones.
"This is the stuff everyone has been terrified about for years, and now it's a reality," he said.
The Pentagon said Wednesday that two Kurdish Peshmerga fighters were killed and two French special forces soldiers were wounded in northern Iraq last week as a result of the explosion of a small drone armed with an improvised device, after it was intercepted and brought down.
US military experts are concerned that Daesh may deploy more weaponized drones against coalition troops.