Austrian Interior Minister Wolfgang Sobotka called on the European Union to speed up the deportations of people whose asylum applications have been rejected. He said that the EU should also proactively increase measures to prevent displaced people from reaching the bloc in the first place.
"The expansion of Frontex [the EU's new border defense agency] is a first step in the right direction, but more must follow it in order to be able to protect the EU's external borders. We have a paradoxical situation here in that people ineligible for asylum cannot be deported back to their countries of origin," he told Germany's Die Welt newspaper on Thursday.
Sobotka, of the right-wing Austrian People's Party, then appeared to suggest that the EU's naval coast guard should cease saving migrants crossing the Mediterranean Sea. He said that "rescuing" people would encourage migrants to continue coming to Europe to seek asylum.
The Mediterranean Sea crossing has become a bloody stretch of water since Europe's migrant crisis began in early 2015.
Almost 1.3 million people arrived from North Africa, the Middle East and Asia last year. And the International Organization for Migration (IOM) estimate that the death toll from men, women and children dying as they try to reach European shores is more than 3,100 this year alone.
Faced with so many people and so much loss of life, there remains little agreement across the 27 EU member states, over how to deal with the humanitarian crisis.
In May, the European Commission proposed reforms to EU asylum rules that would see stringent financial penalties imposed on countries refusing to take their EU allocated share of asylum seekers.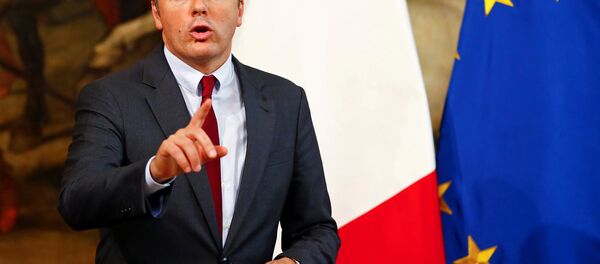 12 October 2016, 16:28 GMT
A country could face a sanction of US$290,000 per migrant.
However, the plans would require support from most member states as well as MEPs, and this has not been forthcoming from many quarters. Austria, Poland and Hungary are firmly opposed to relocation quotas for refugees.
However, on Wednesday (October 13), Italian Prime Minister Matteo Renzi threw his support behind the policy, ahead of the EU's next summit meeting on October 20-21, in Brussels.
"It's necessary that Italy be the promoter of a very tough position toward those countries that have received a lot of money for belonging to the bloc to relaunch their territories, and who are shirking their commitments to relocate immigrants.
"The positive aspects of belonging to the EU must be balanced by the duties that come with membership," Renzi insisted.
However, Austrian Interior Minister Wolfgang Sobotka's comments on Thursday, highlights the fact that many countries find the EU's proposals unacceptable.
Austria has take a hardline stance on the migrant crisis, previously coming under fire for threatening to suspend the Schengen freedom of movement commitments, and reinstate checks on its border with Italy.
In April, Austria passed a controversial new law that restricts the right of asylum, allowing most claimants to be rejected directly at the Austrian border.
Human rights groups said the law undermines the principle of protection from war and persecution.
The legislation came just days after Austria's far-right party came top in the first round of a presidential election. There has been rising anti-immigration tensions in Austria, coinciding with an increase in nationalistic sentiment — a trend echoed in many European nations.
© REUTERS / Michael Dalder
Migrants stay in queue during heavy snowfall before passing Austrian-German border in Wegscheid in Austria, near Passau November 22, 2015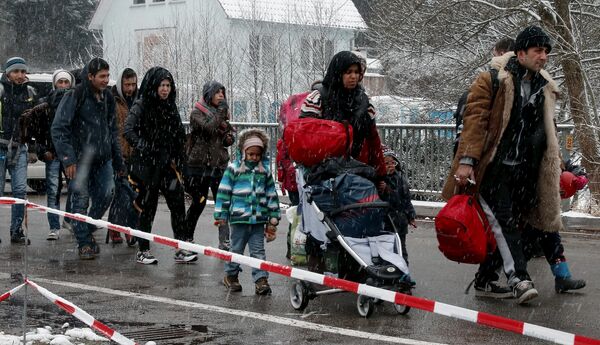 Migrants stay in queue during heavy snowfall before passing Austrian-German border in Wegscheid in Austria, near Passau November 22, 2015
That May election, in which the far-right, anti-immigrant Freedom Party's (FPO) Norbert Hofer, narrowly lost to the former Green party leader Alexander Van der Bellen, has since been overturned.
Austrians will go back to the polls next month, and early polls indicate that Norbert Hofer may win. If he does, Austria's clash against the EU on the bloc's approach to refugees and migrants can be expected to become more divisive.
The public airing of the political tensions between several EU members over the migrant crisis has exposed the stalemate that the bloc continues to find itself in.
And while the deadlock continues, more migrants will take their chances at the Mediterranean Sea crossing, and so even more deaths seem sadly inevitable.