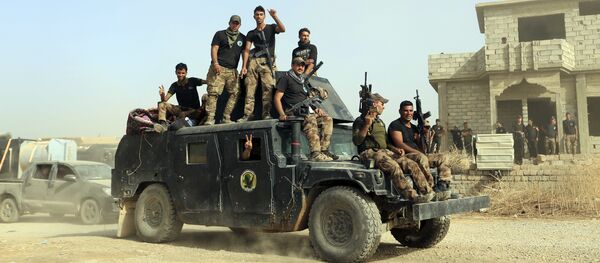 17 October 2016, 16:06 GMT
MOSCOW (Sputnik)
–
The Syrian authorities welcomed the beginning of the liberation of the Iraqi city of Mosul from the Daesh militants, media reported Monday, citing a source in the Syrian Foreign Ministry.
"The decision to liberate Mosul from Daesh militants marks the turning point in the fight against terrorism, which has to receive all the necessary assistance from all the states in the region and in the world," the source told the Syrian Arab News Agency (SANA).
According to the source, the Daesh defeat in Iraq will hurt the group's standing in Syria, where it is also present.
"Syria affirms that victory over Daesh in Iraq is a victory over Daesh in Syria, because the battle against ISIS and other terrorist groups is a battle against terrorism and those who support, arm, and fund it," the source added.
Early on Monday, Iraqi Prime Minister Haider Abadi announced the start of the military operation to retake Mosul, the country's second largest city, from the Daesh militants, outlawed in Russia and many other countries.