Russia has already started sharing its intelligence data with the Turkish army, which will ensure the effectiveness of Ankara's Euphrates Shield operation in Syria, Russia's Izvestia newspaper reported on Monday.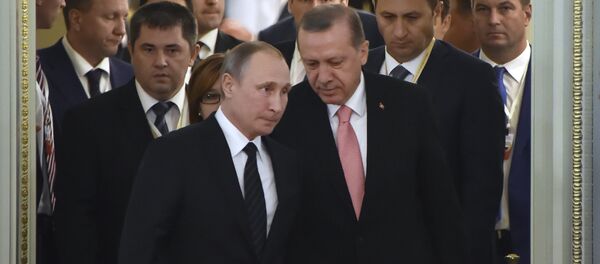 22 October 2016, 13:07 GMT
According to the newspaper, the agreement was been reached during recent negotiations between Russian President Vladimir Putin and his Turkish counterpart Recep Tayyip Erdogan.
First Deputy Chairman of the Committee on Defense and Security at the Federation Council (upper house of parliament) Franz Klintsevich told the newspaper that Turkey quietly joined the intelligence sharing pool created by Russia, Syria, Iraq and Iran.
"We pass Turkey data on our radio intercepts, electronic intelligence and imagery intelligence that may be of interest to it," the senator said.
"In response, they also share information. Turkey has very effective intelligence agencies and very good agents in Syria," he added.
Commenting on the move, Retired Air Lieutenant General Erdogan Karakus, General President of TESUD (Turkey Retired Officers Association) told Sputnik Turkiye that the pace of development of Russian-Turkish relations amid the mounting tension in Turkish-American relations signifies major changes to Turkish foreign policy.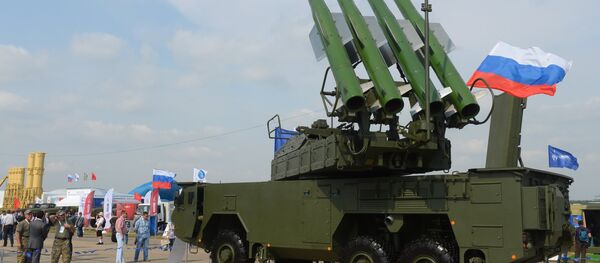 14 October 2016, 12:36 GMT
Ankara is demonstrating its readiness to upgrade its cooperation with Moscow to an unprecedented level, creating prerequisites for further strategic partnerships, including in the military-political sphere.
"Turkey pays high importance to the Open Skies Treaty. Signed in 1992, it is aimed mainly at strengthening trust between the signatories," Erdogan Karakus told Sputnik.
"Unfortunately this February Turkey denied Russia an observation flight over its territory. However the situation has drastically changed since then and Russian inspectors now perform observation flights over Turkey. This is one of the major indications of a new stage in development of Russian-Turkish relations," he added.
"The exchange of intelligence data, negotiations on the creation of a Turkish anti-missile defense system with the deployment of Russia's S-300 and S-400 systems, the opening of its territory for observation flights signifies the growing trust in relations between the two countries," Karakus said.
Retired Air Lieutenant General noted that such a development is only more natural as the American 'Greater Middle East' project equally worries both Russia and Turkey.
To be able to prevent all the threats arising from this project the cooperation between the two countries should be ultimately upgraded to a strategic level.
There are no hurdles for the further strategic partnership between the two, Karakus finally stated.