23 October 2016, 10:51 GMT
In an interview with
Sputnik China
, military expert Vasily Kashin described an anti-satellite weapon as a new reality which one should consider when planning a possible military operation.
The interview came after US Air Force Maj. Gen. Nina Armagno claimed that Russia and China would allegedly be able to threaten any American satellites in any orbit by 2025, which is why she believed it was necessary for Washington to be able to use force to uphold its related interests.
She made the remarks during a ceremony in which the US Defense Advanced Research Projects Agency's Space Surveillance Telescope was handed over to the US Air Force Space Command.
Speaking to Sputnik China, Kashin specifically pointed to the fact that Armagno had underscored that all US satellites were at risk, rather than only intelligence and communication satellites placed in low orbit.
He said that the US Army is already grappling with the existing threat to its satellite group by notably making amendments to its combat training program.
Kashin explained that modern satellites are almost devoid of any opportunity to protect themselves from the impact of interceptor missiles, something that may prompt developers to try to equip  satellites with advanced electronic warfare systems in the future.
Optoelectronic Nurek space tracking system on Mount Sanglok
It won't resolve the problem for the US Armed Forces to simply be equipped with new space observation systems, Kashin said, referring to the Russian space surveillance station Okno, located in the town of Nurak in Tajikistan, which he said was on a par with US analogues.
Modernized in 2015, the facility consists of a number of telescopes in domes and is specifically designed to detect certain space weapons, such as satellite-fighters which are capable of approaching enemy satellites and hitting them with an explosion, according to Kashin.
"Such a system is capable of proving the fact that a satellite can be attacked by an enemy space vehicle, but the problem is that this system cannot protect the satellites," he pointed out.
In the new reality, Russia, China, the United States, as well as India and Iran will most likely possess domestically-made sophisticated anti-satellite weapons, according to Kashin.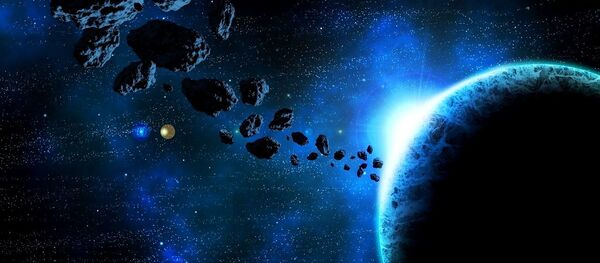 20 October 2016, 20:55 GMT
In this context, he referred to China developing a relatively simple and cheap space launch vehicle based on intercontinental ballistic missiles and medium-range ballistic missiles, which, like the combat missiles, can be launched from mobile launchers.
During a possible armed conflict, the Chinese army plans to replace the destroyed satellites with new ones, Kashin said, also mentioning Russia putting satellites into orbit with the help of ballistic missiles launched from submarines.
"So far, anti-satellite weapon has remained fabulously expensive, and the number of the relevant launch vehicles is limited. The side which has a more powerful rocket and space industry and which will be able to put its vehicles into orbit faster than its enemy, will have an advantage in a possible future armed conflict," Kashin concluded.