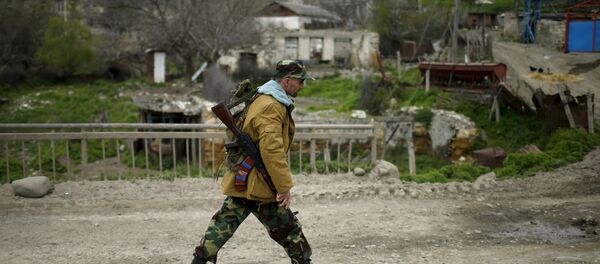 22 October 2016, 09:07 GMT
PARIS (Sputnik) — The two ministers will discuss the OSCE Minsk Group's proposals of "using negotiations to find a peaceful and sustainable solution to the Nagorno-Karabakh conflict," Romain Nadal told journalists.
The spokesman added that the meeting would also "give impetus to Franco-Armenian relations, in particular through the signing of two agreements on bilateral cooperation."
Azerbaijan's Armenian-dominated breakaway region of Nagorno-Karabakh proclaimed its independence in 1991. After the military conflict ended in 1994, Azerbaijan lost control over the region. Violence erupted in Nagorno-Karabakh on April 2, 2016 and led to multiple casualties. The parties to the conflict signed a Russian-brokered ceasefire on April 5, but mutual accusations have not stopped so far.
The Minsk Group of the Organization for Security and Co-operation in Europe (OSCE), co-chaired by France, Russia and the United States, has been attempting to resolve the conflict since 1992. Azerbaijan insists on preserving its territorial integrity, Armenia protects the interests of the breakaway republic, as Karabakh is not a party to the negotiations.