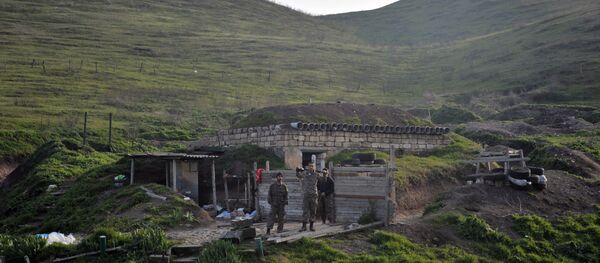 27 October 2016, 14:18 GMT
BAKU (Sputnik) – Armenia has violated the ceasefire in Nagorno-Karabakh using heavy machine guns 31 times during last 24 hours, the Azerbaijan's Defense Ministry said on Saturday.
"The Defense Ministry says that Armenian armed forces using heavy machine guns violated the ceasefire regime across the contact line 31 times in last 24 hours," the ministry's press service said.
Azerbaijan's Armenian-dominated breakaway region of Nagorno-Karabakh proclaimed its independence in 1991. After the military conflict ended in 1994, Azerbaijan lost control over the region.
Violence erupted in Nagorno-Karabakh on April 2, and led to multiple casualties. The parties to the conflict signed a Russian-brokered ceasefire on April 5, but mutual accusations have not stopped so far.