The Republican presidential candidate was giving a speech in Reno, Nevada, when he appeared to squint out at the crowd and then was hustled out of sight by two security personnel.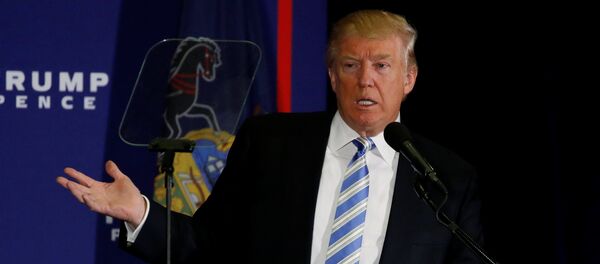 6 November 2016, 01:30 GMT
The US Secret Service said in a statement that a person directly in front of the stage had shouted "gun!" but no weapon was found after a search.
"Secret Service agents and Reno Police Officers immediately apprehended the subject," the statement read. It has not been announced whether anyone has been charged with a crime in the incident.
Trump returned to the stage within minutes to finish his speech, and later issued a statement thanking the Secret Service and Nevada police.
A man who identified himself as Austyn Crites told a Reno NBC affiliate that he was the one police detained and released. A lifelong Republican, Crites said he simply wanted to raise his "Republicans Against Trump" sign. People around him started booing, he said. Then he was tackled by the crowd and was being beaten when someone yelled about a gun and law enforcement officers descended on the scene. He told local media he thought the crowd would have killed him had he not been detained by security officers.
The Secret Service statement also pointed out that magnetometers are used to scan all attendees at presidential campaign sites.
Several people associated with the Trump campaign, including son Donald Trump Junior, a speaker at the candidate's next rally and the campaign's social media manager, have made public statements suggesting the incident was an assassination attempt, though no law enforcement body has revealed any evidence to support the claim.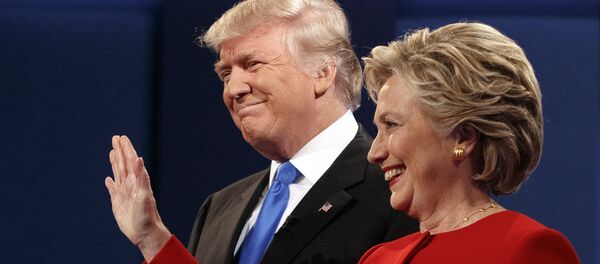 6 November 2016, 15:22 GMT
Trump campaign manager Kellyanne Conway told CNN's Jake Tapper that night that the man who interrupted the rally was a supporter of Hillary Clinton. "This is a Democratic plant or operative trying to disrupt our rally," she said.
Trump, who has positioned himself as the pro-gun candidate and is endorsed by the National Rifle Association, has repeatedly implied that "law-abiding citizens" carrying guns can help prevent crime. He claims to have a concealed carry permit himself and supports a national right to carry in all 50 states.