Ankara has found itself sidelined while the US-led coalition has kicked off the Raqqa offensive, Haldun Solmazturk, an honorary research fellow at London Metropolitan University and senior fellow at the 21st Century Turkey Institute in Ankara, noted in his interview with Sputnik Turkiye.
"As of yet there is no clarity about any joint US-Turkish actions or operations. In my opinion, there is no common US-Turkish plan to liberate Raqqa, and there cannot be one, since the 'Euphrates Rage' is being conducted with the assistance of Kurdish forces," Solmazturk told Sputnik.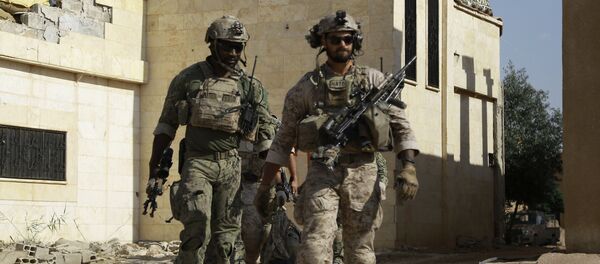 6 November 2016, 15:10 GMT
There can be little doubt that the joint US-Kurdish plan to liberate Raqqa has been developed over a long period of time, he noted.
Regardless of Ankara's protests, "the Americans have chosen to cooperate with the Syrian Kurds, demonstratively abandoning Turkey," the Turkish expert emphasized.
Remarkably, on November 6, CNN Turk reported about Chairman of the Joint Chiefs of Staff Joseph Dunford's meeting with his counterpart Hulusi Akar in Ankara.
According to the media outlet, the allies discussed regional security issues and recent developments in Syria and Iraq. In addition, they underscored that the US and Turkey have similar approaches toward fighting the internationally-condemned terrorist group Daesh (ISIS/ISIL) in al-Bab and Raqqa.
For his part, Murat Yetkin of Hurriyet Daily News reported Tuesday that Ankara and Washington had agreed to work together on the Raqqa operation.
Citing an unnamed high-ranking Turkish source, Yetkin underscored that "the Turkish side was 'happy' with the outcome of the 4.5-hour meeting on Sunday."
© REUTERS / Kayhan Ozer/Presidential Palace/Handout
Turkey's President Tayyip Erdogan reviews a guard of honour as he is accompanied by Chief of Staff General Hulusi Akar upon his arrival to the Chief of Staff Headquarters in Ankara, Turkey, August 3, 2016.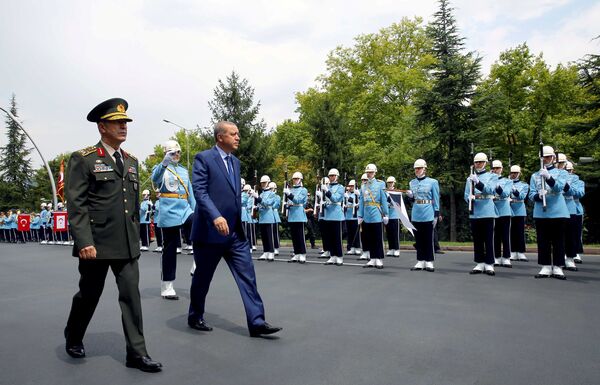 Turkey's President Tayyip Erdogan reviews a guard of honour as he is accompanied by Chief of Staff General Hulusi Akar upon his arrival to the Chief of Staff Headquarters in Ankara, Turkey, August 3, 2016.
©
REUTERS
/ Kayhan Ozer/Presidential Palace/Handout
However, according to Solmazturk, Washington's actions speak louder than words.
"The Turkish government has long protested against the US-Kurdish rapprochement and their joint actions in Syria. Ankara strongly criticized their combined operation aimed at the liberation of Raqqa," the expert recalled.
"However, Turkey's protest efforts were senseless and futile as Ankara could not upset the US-Kurdish alliance, no matter how hard it tried. US-Kurdish cooperation has gone too far, and Turkey's attempts to drive a wedge between them have proved fruitless," Solmazturk emphasized.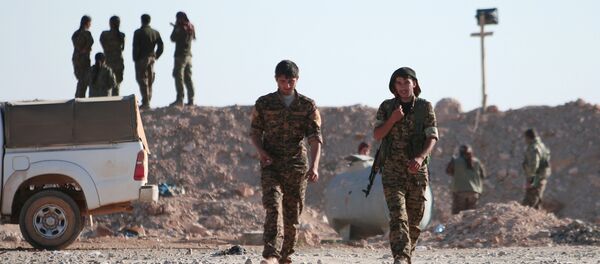 8 November 2016, 13:26 GMT
The expert stressed that the US has signaled clearly that they are participating in the "Euphrates Rage" operation as an ally of the Kurdish left-wing Democratic Union Party (PYD).
"Turkey has no choice but to reconcile itself with this reality," Solmazturk remarked.
In this context, Dunford's visit to Ankara should be regarded not as a demonstration of support, but a warning to Ankara, he suggested, adding that the speculations about Washington's alleged concessions to Ankara, spread by Western and pro-Western media, are merely aimed at calming public opinion in Turkey.
"The situation in Raqqa, Syria is unfolding as expected. The US and the PYD are conducting their joint operation there. Despite the announcements of agreements made by the US and Turkey, Ankara has found itself sidelined," Solmazturk stressed, adding that all of the above clearly indicate that "Turkey lacks a clear and consistent strategy in Syria."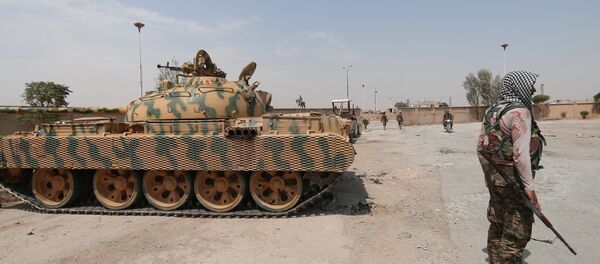 8 November 2016, 09:22 GMT
Merve Aydogan of Daily Sabah
echoes
Solmazturk.
"While the Chief of Staff [Joseph Dunford] makes promising remarks, the reality on the ground is the US is cooperating with the PKK [Kurdistan Workers' Party]-affiliated YPG [the People's Protection Units]; and around 30,000 YPG fighters are expected to take part in the upcoming operation," Aydogan underscored.
She also cited Turkey's Foreign Minister Mevlüt Cavusoglu, who emphasized that "from the very beginning, the US has told (Turkey) that the YPG could take a role in seizing Raqqa, and Dunford during his visit also said this, while stressing that they will not enter Raqqa."
"We hope for this to actually happen and expect our allies to keep the promises they make," Cavusoglu stressed.