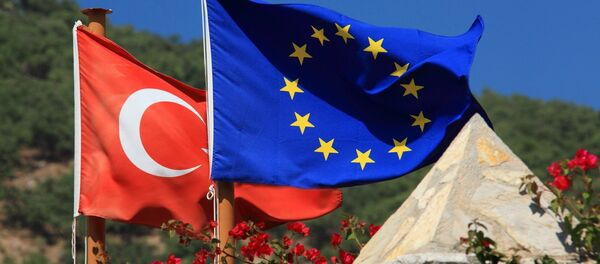 8 November 2016, 16:42 GMT
During the second round of the presidential election this year, Hofer received 49.7 percent of vote; his opponent, independent candidate Alexander Van der Bellen, got 50.3 percent. However, due to numerous infractions committed during the election, the Constitutional Court annulled the results, and a runoff vote has been scheduled for December 4.
During an interview with Sputnik Serbian, Hofer explained that if he becomes president, relations between Austria and Russia are definitely bound to improve.
"The underlying concept of the European Union was to establish lasting peace through economic cooperation, and in that regard, breaking trade contacts is a mistake. If we want to live in peace, we need trade relations with Russia," Hofer said.
At the same time, despite the growing popularity of rightist movements in Europe, he believes it is very unlikely that the far right poses a threat to the nations of Europe. Instead, he argued, Europe should focus its attentions on problems it is already facing, like the rise of Daesh (ISIL/ISIS) and the migrant crisis. The latter, Hofer said, may in fact be resolved by establishing a safe zone for refugees, but in North Africa rather that in Europe.
"It will be expensive, but according to our Ministry of the Interior's calculations, Austria spends 270,000 euros on each refugee. Last year alone we've accommodated 90,000 refugees, not to mention their family members who followed them later. So multiply this figure by 270,000 and you'll realize what kind of money we are talking about. And this applies to other EU countries as well. For a much lesser sum of money we could've established a safe zone in North Africa, complete with kindergartens, schools and other educational facilities where people who would later rebuild their countries could study," Hofer said.
He further explained that such a zone could also be used to process refugees and to determine whether any of them are eligible for asylum in Europe, without forcing people to depend on smugglers and risk their lives at sea in order to reach the continent.
According to Hofer, if the EU manages to learn valuable lessons from the crisis it is currently facing, the union will emerge stronger that before from this ordeal.
"The most important thing is to actually implement the principle of subsidiarity. Let the EU handle the large issues, like security and economy, while the member-states deal with minor aspects as they see fit. The EU shouldn't dictate what light bulbs to use and what a barbecue mitt must look like," he surmised.