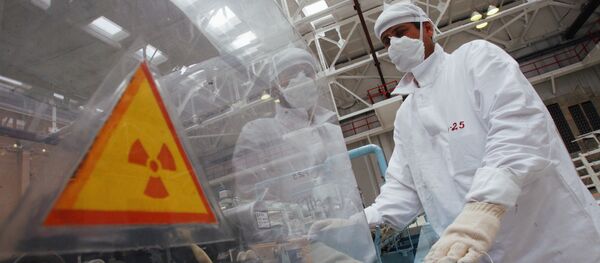 11 November 2016, 12:44 GMT
New Delhi (Sputnik)
–
A day ahead of the expected signing of a civil nuclear deal between India and Japan, Greenpeace's local chapters in both countries warned that the drawbacks far outweigh the benefits.
The Japan-India Agreement opens, in theory, the way for the construction of six Westinghouse/ Toshiba AP1000 reactors in Modi''s home state of Gujarat. But in reality, says Greenpeace, the reactors are neither economically or financially viable. They will take a long time to build and result in higher costs.
As of now, revealed Greenpeace, lobbying efforts by Westinghouse/Toshiba have failed to secure $ 8-9 billion in loan guarantees from the U.S. Exim bank for the Gujarat project. Westinghouse/Toshiba hope to secure financing from the Japan Bank for International Cooperation (JBIC). However, the poor record of the AP1000 design, both in construction times and economics, combined with the history of the Indian nuclear program may rule out JBIC financing.
The signing of the nuclear agreement will neither save Westinghouse/Toshiba's failing nuclear business nor deliver safe energy. Instead, it will increase the risk of nuclear weapons proliferation in Asia, warned Greenpeace Japan and India.
"This is a dangerous energy distraction. Japan's nuclear program remains in crisis and India's program lacks the financing for new reactors," said Priya Pillai of Greenpeace India.
The Japanese chapter regretted the absence of an effective separation between India's nuclear energy program and its weapons program. This amounts to a geo-strategic decision to support further nuclear weapons proliferation in Asia, it said.
The Indo-Japanese nuclear deal has been six years in the making. Japan reportedly wants a "termination" clause in the agreement if India ever conducts a nuclear test after signing the deal.
India's dilemma is if it agrees to such a clause with Japan, other nations may ask for similar guarantees. An exception is Russia, India's closest and unarguably the most trusted partner on nuclear energy front. The deal with Russia is notable as it has been beneficial for New Delhi in terms of technology transfer and speedy implementation.
India-Russia nuclear cooperation made significant advances last month with the signing of an agreement to build two more nuclear reactors in Kundakulam project.