The unidentified metal object landed at about 6 a.m. November 10 near the village of Lone Khin in the mountainous Kachin State, The Myanmar Times reported. The actual impact was near an abandoned jade mine in the Hpakant township. The object ripped through the tent of a jade miner living there, though no one was reported as injured in the incident. 
Local resident Ko Maung Myo said in the early morning he heard what sounded like an explosion and felt the ground tremble, and feared a battle had started.
"Every local thought it was the explosion of heavy artillery," Maung said, according to the Myanmar Times report. "I walked over to it and saw it was part of an engine."
The cylindrical object is about 12 feet long and five feet in diameter, and while initial reports suggested it looked like part of a jet engine, other possibilities haven't been ruled out. The Myanmar government has not officially identified the object and will wait for the results of their experts before doing so, a Space.com report on the incident says. 
"Experts are there checking it," Kachin State government deputy director U Zaw Myo Nyunt told The Myanmar Times. "They also assumed that it was part of some aircraft or rocket."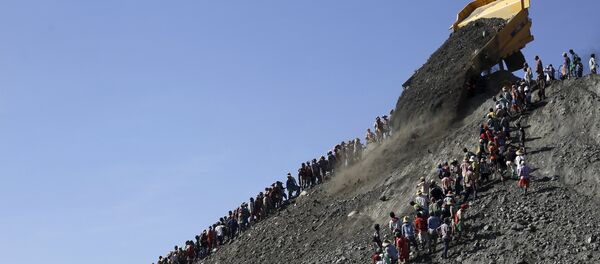 19 October 2016, 22:03 GMT
However, a former member of Myanmar's Department of Aviation said images he's seen of the object look more like a rocket booster than something from a commercial plane. 
The report also points out that Myanmar's giant neighbor, China, launched its Long March Rocket 11 into space November 9, laden with satellites and other equipment. Space debris is a regular and predictable result of rocket launches.  
Additional report claims that a separate metal object with Chinese characters on it fell through the roof of a nearby house. BBC science correspondent Jonathan Amos says the object resembles the part of a rocket known as a stage.