It's been revealed that the numbers of trafficked and unaccompanied children, many of whom are asylum seekers, are going missing from care at "alarmingly high rates," charities ECPAT UK and Missing People have claimed.
​More than a quarter of all children trafficked in Britain and over 500 child asylum seekers went missing from the care at least once in the last year. However these are the numbers of children that the local authorities know about — but it's what they don't know, which is more dangerous, according to ECPAT UK. 
Buried Data, Invisible Children
"It's shocking that 20 percent of local authorities responsible for children are not able to tell us how many trafficked children they have in their care," Chloe Setter, head of advocacy, policy and campaigns from ECPAT UK told Sputnik.
"Forty-five local authorities did not know how many of their looked after children were missing, and when they reported 'zero' cases of exploitation, we know that it is not true. We have data on British nationals being exploited, sexually, or forced into drug running. But to say 'none' as many of the London boroughs did, is shocking. It's the data we don't have which is more worrying than the data we do — and when the data is buried, the children become invisible."
ECPAT UK has accused local authorities of using a lack of data to "mask a very serious issue."
'Drop in the Ocean'
"It is not acceptable for them to say 'sorry we can't tell you' and for that to continue under a government that says it prioritizes tackling modern slavery," Chloe Setter told Sputnik.
"The fact we don't have very good data in this area indicates the numbers of trafficked children in care who are missing, is a drop in the ocean."
The report, "Heading Back to Harm: A study on trafficked and unaccompanied children going missing from care in the UK," collected data and information from 217 local authorities across the UK, revealing "alarming" numbers of children who had gone missing at least once — or had disappeared completely from beneath the radar of the authorities.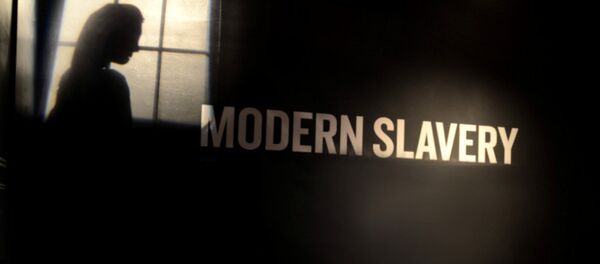 This, according to the charities which compiled the report, suggests that the UK government's response to child protection is "inadequate" and leaves children more vulnerable to re-trafficking and abuse.
'National Disgrace'
Thurrock in Essex, Hillingdon in Greater London, Kent County Council and Surrey in the south of England and Croydon in south east London where the Home Office visa office is based, has the highest numbers of trafficked and unaccompanied children who go missing. 
The nationalities of the children who had been trafficked in and around the UK who were most likely to go missing were Vietnamese, British and Albanian, in that order. Albanian, Afghan, Vietnamese and Eritrean children accounted for the highest proportion of missing unaccompanied children, according to the data in the report.
21 November 2014, 10:00 GMT
"It is a national disgrace that this problem has remained neglected and these children rendered invisible by poor data collection and national coordination," Chloe Setter said.
"We must not accept this as a reality any longer," Ms. Setter added.
"Every child that goes missing is a failure in our duty to protect them from harm. The government must listen to the voices and experiences of young people, and urgently redress the gaps in our protection systems that allow traffickers to flourish and children suffer."
The report is being launched in the Houses of Parliament in Westminster with Sarah Newton, Minster for Vulnerability, Safeguarding and Vountering Extremism.