Denmark allowed the US to build 33 bases and radar stations on the giant island, then a part of Denmark, in a 1951 deal, AP reports. The agreement between the two NATO allies didn't say who was to clean the stuff up.

21 October 2016, 22:38 GMT
Now Greenland, an autonomous though not fully independent nation, is tired of being America's junkyard and has asked Denmark to come clean up.
The military debris includes Camp Century, a planned nuclear missile launch site that was to tunnel massive missiles along a sort of railway under Greenland's ice.
The camp, begun in 1959 and abandoned in 1967, still contains 200,000 liters of diesel oil and sewage — and perhaps more sinister litter. Camp Century was powered by a nuclear reactor, Business Insider reports. Though the Americans took the reactor away, they seem to have left radioactive waste along with the fuel and other materials beneath the ice.
At the time, Greenland's ice would have seemed impenetrable and safe. Now, Business Insider reports, the ice keeping all this waste out of Greenland's water and soil could melt within 88 years, if the current rate of melting holds.
"The question is whether it's going to come out in hundreds of years, in thousands of years, or in tens of thousands of years," University of Colorado climate scientist James White said in a press release. "This stuff was going to come out anyway, but what climate change did was press the gas pedal to the floor and say, 'it's going to come out a lot faster than you thought.'"

21 October 2016, 22:38 GMT
"Two generations ago, people were interring waste in different areas of the world, and now climate change is modifying those sites," said William Colgan, a climate and glacier scientist at York University in Toronto and author of an August study on the coming military waste crisis in Greenland. Cogan and the other authors of the study warn that oil, radioactive waste and cancer causing chemicals may soon leak into Greenland's environment as the ice melts.
"It's a new breed of political challenge we have to think about."
"Unless Denmark has entered other agreements with the United States about Camp Century, the responsibility for investigation and cleanup lies with Denmark alone," Vittus Qujaukitsoq, Greenland's minister in charge of foreign affairs, said about the cleanup, according to AP.
In other areas, the US left behind so many oil barrels that the Inuit people who live nearby call their rusted remains "American Flowers," Business Insider reported earlier this year. The vast majority of Greenland's population is Inuit.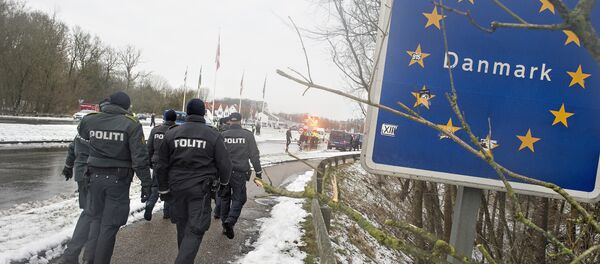 7 November 2016, 04:34 GMT
Danish Foreign Minister Kristian Jensen said earlier this month that Denmark's Environment Ministry is looking into the problem. "It is still too early to say who will be involved in a possible cleanup," he told AP later via email.
The US Air Force still uses Thule Air Base in Greenland. At about 745 miles below the North Pole, it is the Air Force's northernmost base.
Aleqa Hammond, a former premier of Greenland who now represents the island in Denmark's Parliament, said Greenland could bring the matter to a UN panel on indigenous issues if Denmark dawdles.