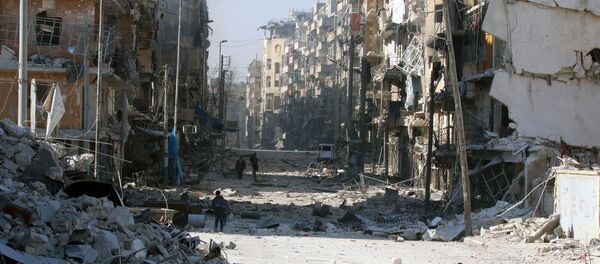 29 November 2016, 20:42 GMT
MOSCOW (Sputnik) — Over 5,600 Syrian civilians, among them some 2,800 children, managed to leave the terrorists-beset areas of Aleppo, the Russian Defense Ministry said on Wednesday.
"During the past day, 5,629 civilians, including 2,855 children left the militants-controlled areas in the eastern part of the city of Aleppo, with the assistance of the Russian Center of reconciliation," Russian Defense Ministry spokesman Maj. Gen. Igor Konashenkov said.
According to him, the people are being placed in special humanitarian centers prepared by the Syrian authorities and assisted by the Russian side, in particular, via supplies of food, daily necessities and medicine. In addition, there are 150 Russian field kitchens to provide hot meals to the needy population of the liberated areas of the city.