Gonzalez, along with four compatriots known as the "Cuban Five," were arrested on conspiracy charges after being sent to the US on behalf of Havana to infiltrate terrorist groups. Gonzalez was released in September 2014. He said that he and the other Cuban prisoners often had Castro on their minds from the time of their capture.
​"We thought a lot about Fidel because of his fighting spirit, something that he has instilled in the Cuban people," he said. 
Gonzalez spoke about a recent event in Revolution Plaza honoring Castro's life, saying that it was "emotional and impressive to listen to the crowd," and to see "Cubans, especially the younger generation chanting, 'I am Fidel'. That's the spirit now, that each Cuban becomes Fidel, that Fidel multiplies himself in every Cuban."
Loud & Clear Host Brian Becker pointed out a nearby statue of Cuban national hero Jose Marti, asking Gonzalez if he thought Castro belonged in the same tradition of Cuban patriotism as Marti.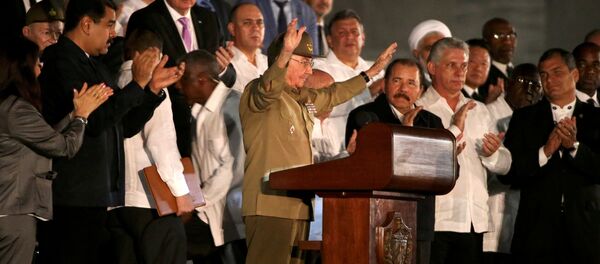 30 November 2016, 06:54 GMT
Gonzalez replied that Castro is "The Marti of our times," and that, "He achieved the goal of victory by the Cuban people and he was able to defend that victory through 57 years and that's the spirit that we carry to the future."
He added that "Fidel is certainly most influential in Cuba and in many parts of the world for the past 60 years, but the revolution wouldn't have been possible without the people of Cuba. People may think that Fidel had control over everything…[but] if the the people didn't want him there, he wouldn't be. But he was there because people wanted him to be there and he was the leader of this revolution and the revolution continued after he became ill and retired from politics."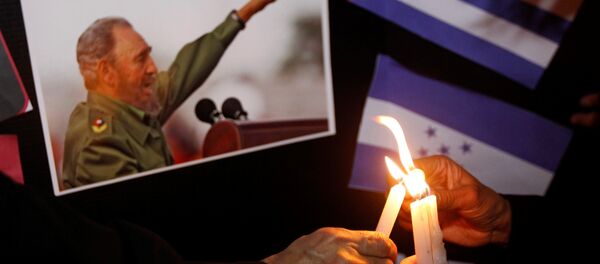 30 November 2016, 00:16 GMT
Becker acknowledged that Cuba stayed afloat during the "special period" following the collapse of the Soviet Union and the breakup of the Socialist bloc, remarking, "One of the remarkable things about Fidel's leadership is that he not only led the wave of revolution, he was the leader of a mass movement. In other words, his vision was a catalyst, but of course you can't do it by yourself, it's the masses."
"It took a lot of courage from our people, and also a lot of courage from Fidel. A lot of confidence in the ideals and concepts we espoused and defended," Gonzalez said. "Today, I am as proud as I've ever been of being a soldier of Fidel Castro. I was a soldier for Fidel in Angola, I was a soldier for Fidel in the United States, and I'm always going to be a soldier for Fidel."