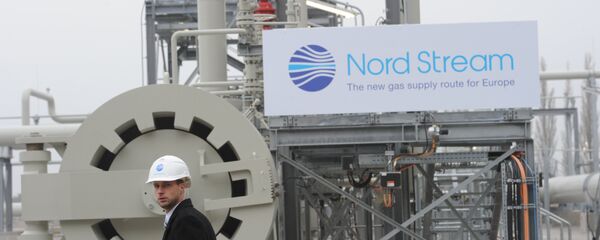 23 November 2016, 08:08 GMT
Recently, Russian President Vladimir Putin said that despite opposition from Poland and Ukraine, the Nord Stream 2 gas pipeline will be constructed.
"Despite certain obstacles, including the fact that Poland did not approve construction, all the parties involved are still in the project. First of all, they are our partners from Germany, the Netherlands, Austria and France," Putin said during his recent visit to Chelyabinsk. 
Another headache for Warsaw and Kiev is the Opal gas pipeline connecting Nord Stream to the European gas transportation system. In October, the European Commission decided to expand Gazprom's access to Opal to 80 percent from the initial 50 percent.
Poland and Ukraine filed a complaint to the European Court in a bid to challenge the decision.
Earlier this week, it was reported that Warsaw and Kiev submitted an application to the German regulator (Bundesnetzagentur, BNetzA) for third-party participation in Opal. A status of procedural observer would let Poland and Ukraine challenge decisions changing the rules of the use of Opal.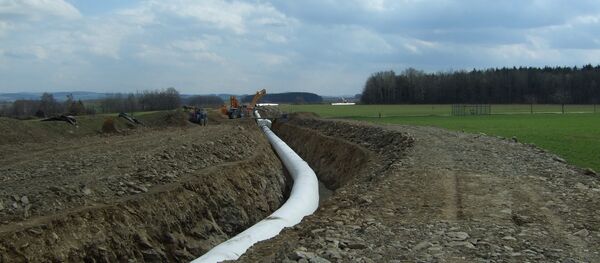 6 December 2016, 15:04 GMT
The complaint to the European Court is unlikely to be settled since Europe needs more gas from Russia, said Rafal Zasun, a Polish journalist and editor-in-chief of Wysokienapiecie.pl analytical website.
According to the journalist, there are several possible scenarios in the current situation.
"If the court recognizes Polish gas company PGNiG as a company that can file a lawsuit against the European Commission the process is likely to be delayed because European courts usually need time to issue a ruling. On the other hand, the complaint can be regarded as procedural. If that's the case, PGNiG Supply & Traing GmbH will not be regarded as a litigant. Moreover, Poland could challenge the decision of the German regulator in a German court in order to be recognized as a litigant in the Opal case," Zasun said in an interview with Sputnik Polish.
However, the journalist suggested that the court will rule in favor of the European Commission.
"I don't think that the European Commission and the German regulator would have made this decision if they had not been 90 percent sure that they would be able to defend it in the court," he said.
Sergei Pravosudov, director of the National Energy Institute, said there can be no explanation why Ukrainian energy firm Naftogaz and PGNiG want to participate in the use of Opal in Germany.

6 December 2016, 03:43 GMT
"Opal starts from a small city in Germany and there is only Russian gas in the pipeline. But Russian natural gas is also delivered to the border with Ukraine and Poland. I can't say why they want to buy the same Russian gas in Germany," he said.
The expert also noted that he cannot understand the concerns of Poland and Ukraine over Gazprom's extended access to the Opal pipeline.
"As I see, Warsaw and Kiev wants the use of this pipeline [Opal] to be minimized. Because they fear that transit via Poland and Ukraine will decrease. In fact, shipments of Russian gas to Europe, including via Poland and Ukraine, are currently increasing," Pravosudov said.
At the same time, according to the expert, Ukraine's concern is related to Nord Stream 2 and Turkish Stream, two new gas pipelines currently in development.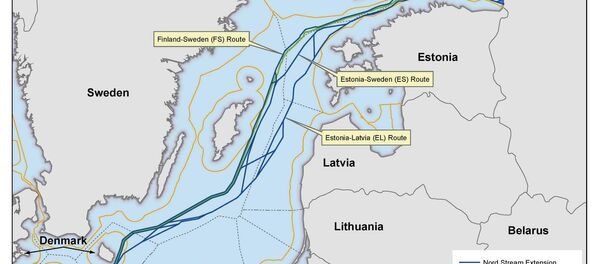 26 October 2016, 09:30 GMT
The Nord Stream 2 project aims to deliver 55 billion cubic meters of Russian natural gas a year to the European Union across the Baltic Sea making a landfall in Germany. It plans to use the original 2011 Nord Stream pipeline for 86 percent of the route before branching off.
Russia and Turkey signed a memorandum of understanding for the construction of Turkish Stream in December 2014. The new pipeline is planned to have a capacity of 63 billion cubic meters. It will run via the Black Sea from Russia to Turkey and continue to a hub on the Turkish-Greek border.
The project faced problems after Moscow-Ankara ties soured last year over the downing of a Russian jet in Syria. However, after a series of setbacks, in early-October, Russia and Turkey signed an intergovernmental agreement on the construction of a new pipeline.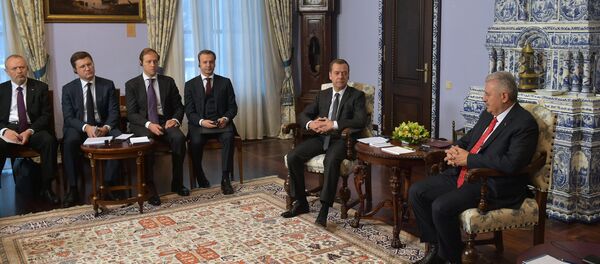 6 December 2016, 14:24 GMT
Kiev fears that both pipeline projects will significantly decrease or even end the transit of Russian natural gas via Ukrainian territory.
"If both the Nord Stream 2 and the Turkish stream projects are implemented… I guess there will be no transit through the Ukrainian territory at all, which, I guess, would reduce the cost of the Ukrainian GTS [gas transportation system] fivefold," Andriy Kobolyev, chief executive of Naftogaz, told the 3STV channel on Tuesday.
"If Ukraine had come to an agreement with Gazprom its gas transportation system would have been modernized long ago. But now Russia is looking for alternative gas transportation routes," Pravosudov said.
Nevertheless, Nord Stream 2 and Turkish Stream are unlikely to affect Poland's interests, according to expert.
"Poland holds 52 percent of the Yamal-Europe gas pipeline on its territory. It is a new project launched in the late-1990s. It was very costly, especially for Russia. So, both Gazprom and EuRoPol GAZ want to have their money to return," he pointed out.