The NSA and GCHQ have been working on intercepting data on commercial airlines since 2007, it's been reported.
The US espionage agency, the National Security Agency (NSA), and it's British counterpart, the Government Communications Headquarters (GCHQ), have been busily snooping on members of the public, even 10,000 ft above ground.
The revelations come from classified files leaked by Edward Snowden, the famed US whistler and former NSA contractor.
The files show that intelligence agents regularly intercept voice and data calls made on phones on commercial aircraft around the world.
Using a triangulation method of comparing passenger lists, satellites data and ground detectors, passengers' calls were tracked "in near real-time".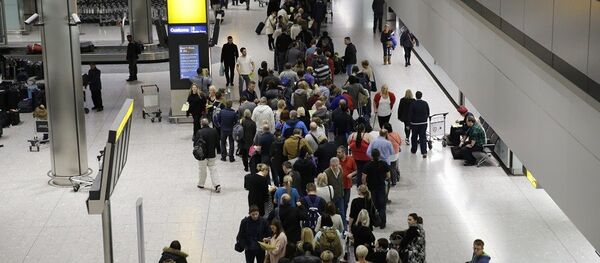 One technique to find out the person's phone security code was to deliberately scramble the phone, so that the user switched their phone off and on again and re-entered their security pin.
Mr. Snowden sent the top-secret files to Insight, the US-based investigative site, which shared the data with French newspaper Le Monde.
After spending months corroborating the information, Le Monde published their report on Wednesday 7th December.
Air France was among the first airlines to be targeted, over fears that it could be a key "possible terrorist target", since 2003.
Other targets include Israeli diplomats and academics, Palestinian Authority officials, and a private defense group.
One British in-flight eavesdropping project was called "Southwinds", according to a 2012 presentation to GCHQ called "Thieving Magpie."
The GCHQ presentation detailed the wide scope of information that intelligence agents could garner from such a project, including, voice communication, metadata, Facebook ID, email addresses and call content.
The report claims that all that is needed for a phone to be spied on in this way is for the plane the passenger is on to be cruising above 10,000 feet.
"The simple fact that the telephone was switched on was enough to give away it's position," the Le Monde report said.
In one of the leaked documents, a "top secret" 2010 internal newsletter of the NSA's Signals Intelligence Directorate, the practice was summed up with the question:
"What do the President of Pakistan, a cigar-smuggler, an arms dealer, a counter-terrorism target, and a combating proliferation target have in common? They all used their everyday GSM phone during a flight."
In response to the report, a spokesperson for GCHQ insisted that the government agency's activities are in keeping with the law.
"Our work is conducted in strict accordance with the judicial and political framework which ensures our activities are authorized, necessary and proportionate."