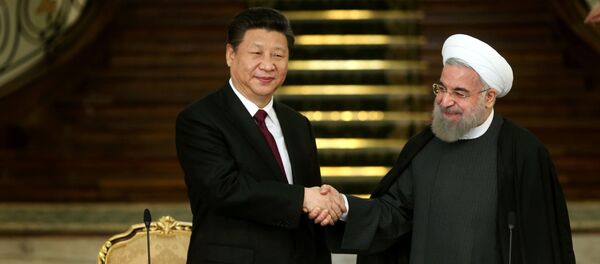 9 December 2016, 15:00 GMT
The new deal will allow the Islamic Republic to renew its aged commercial fleet. Iran has purchased 80 passenger planes, including 50 Boeing 737s and 30 Boeing 777s of two modifications.
According to the deal, all 80 machines will be delivered by Boeing over the next decade, with first plane scheduled for delivery in 2018. This is the largest US-Iranian deal since the Islamic Revolution and the takeover of US Embassy in Tehran.
Both sides praised the deal and underscored the positive impact it will have for jobs in both countries.
According to Iranian Transport Minister Abbas Akhoundi, who attended the signing ceremony, this deal alone will create 8,000 jobs for Iranians.
"The deal has a clear message for the world: we support peace and security as well as the growth of Iran based on a win-win policy," the media quotes him saying.
In its press release, Boeing also underscored the positive impact of the deal.
"Today's agreement will support tens of thousands of US jobs directly associated with production and delivery of the 777-300ERs, and nearly 100,000 US jobs in the US aerospace value stream for the full course of deliveries," the statement reads.

9 December 2016, 10:43 GMT
Most of Iran's commercial fleet was purchased in 1979, and as a consequence its planes are extremely aged: 88 of 250 Iranian planes are currently grounded because of a lack of spare parts.
This deal was possible thanks to the Joint Comprehensive Plan of Action, commonly known as the Iranian nuclear deal: the US and other Western countries agreed to lift sanctions against the Islamic Republic in exchange for Iran opening its nuclear objects for International Atomic Energy Agency (IAEA) inspectors for next 20 years to prove they are not being used to create of nuclear weapons.
This deal has been criticized by president-elect Donald Trump, who believes the 20 year limit won't prevent Iran from making a nuclear weapon in distant future. Iranian Transport Minister Abbas Akhoundi expressed his hope that the new US administration will not revise the terms of the agreement.
"We hope that despite changes in the US administration, the country will remain loyal to its commitments," he said during the Boeing deal signing ceremony.