BEIJING (Sputnik) — On Sunday, Trump said he would not be bound by the One-China policy regarding relations with Taiwan. Trump also addressed a note of protest from China filed over his earlier phone call with the president of Taiwan, saying that he does not want Beijing dictating to him.
"We ask the new administration of the United States and all of the officials to fully understand the high level of sensitivity of Taiwanese issue. Maintenance of One-China Policy is critical in order to avoid deterioration of US-Chinese relations in the future," Geng Shuang said at the press briefing.
Shuang also emphasized that the Taiwanese issue is the subject of government sovereignty and territorial integrity, with One-China policy being a cornerstone of US-Chinese relations.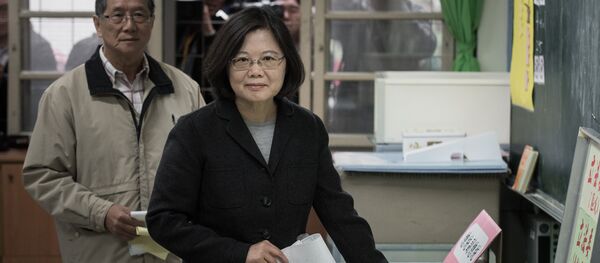 6 December 2016, 23:55 GMT
On November 9,
Trump and Taiwanese President Tsai Ing-wen had a phone conversation
. The call broke with the White House's four-decade-long adherence to the One-China policy on what China considers its breakaway province. Trump became the first US president or president-elect to speak with a Taiwanese leader in an official capacity since the United States severed ties with the island nation in 1979 in favor of improving relations with Beijing.
Both the People's Republic of China (PRC) and the Republic of China (ROC), more widely known as Taiwan, claim sovereignty over the Chinese territory. The future of cross-strait relations remains uncertain following Tsai's Democratic Progressive Party's (DPP) victory in Taiwan's January elections. The DPP rejects the PRC's claim over Taiwan, instead supporting Taiwanese independence.