Right-wing radicals from the Azov Regiment, a 'volunteer unit' incorporated into the Ukrainian National Guard, are searching far and wide for recruits in their fight against Ukraine's breakaway regions of Donetsk and Lugansk. That search has apparently spanned across the oceans, with recruiters making their way all the way to Brazil.
Earlier this year, police in the southern Brazilian state of Rio Grande do Sul received information about the presence of Ukrainians in the country trying to recruit local neo-Nazis for service in the Azov regiment.
In an exclusive interview for Sputnik Brazil, Paulo Cesar Jardim, one of the lead police investigators into the Ukrainian-Brazilian neo-Nazi recruitment operation, explained that the Ukrainian ultranationalists have attempted to conduct their recruitment operations in southern Brazil, and offered details of authorities' efforts against the extremists.
15 October 2016, 12:15 GMT
Jardim heads up a specialized department of the Porto Alegre police department charged with counteracting neo-Nazi organizations. The officer said that Brazilian police have made a series of arrests related to the case in Porto Alegre (the capital of the state of Rio Grande do Sul), along with seven other cities in the state. 
The officer started off by explaining that "in Porto Alegre, a group working in this area [countering neo-Nazis] has existed since 2000. At that time, I was the director of the city police, and was approached by an NGO called Justice and Human Rights, which told me about the existence of neo-Nazi organizations in Rio Grande do Sul. At first I couldn't believe it, thinking 'neo-Nazism here? Seriously? Brazil is a country of football, the Carnival, etc.'"
However, going ahead and establishing the special task force, Jardim and his fellow officers discovered a number of groups, including the 'Skins of Brazil' ('Carecas do Brazil'), the 'Skins of District ABC' (a metallurgical district in Sao Paulo), and other ultra-right and neo-Nazi groups. "We found out that they had conflicts with the punks, and determined through our investigation that groups with neo-Nazi ideology really did exist here."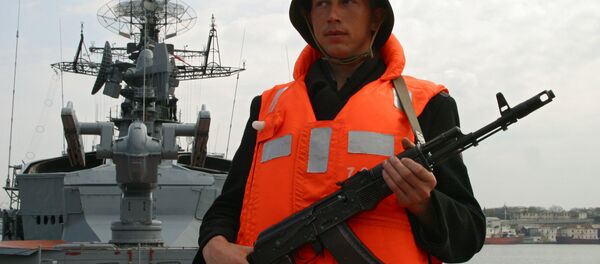 10 November 2016, 10:19 GMT
"That was in 2000," the officer said. "Since then, we have made many arrests; over 50 people have been convicted, many measures have been taken, and many criminal cases opened. Some of the cases went to trial by jury, including those related to murder cases, while others were sent to ordinary criminal courts."
Fast forward 15 years, and the state's anti-neo-Nazi task force gained a new, exotic foreign dimension.
"About 10 months ago, we received information that people from Ukraine and other Eastern European countries had come to Brazil to recruit members of Neo-Nazi groups into the Azov [Regiment] and to send them to Ukraine," Jardim explained. Subsequently, police set up an operation — appropriately called 'Operation Azov', to detain the recruiters and their would-be recruits.
"Many of them were detained and provided testimony. We had already collected the evidence," the officer said. Unfortunately, he added, since their initial arrests, Brazilian police were forced to let the recruiters free, "because arrests in Brazil can take place only in two situations: when a crime is being committed, or following a court order."
"We were not able to catch them in the act, and the court order was only good for detention and questioning," the officer noted.
Nevertheless, Jardim stressed that the operation was still a partial success, with numerous Brazilian neo-Nazis who were arrested as part of Operation Azov detained further, since they were wanted for other crimes. During the operation, police confiscated multiple computers, numerous documents and articles of Nazi propaganda, and gained valuable experience in countering Ukrainian neo-Nazi recruitment efforts.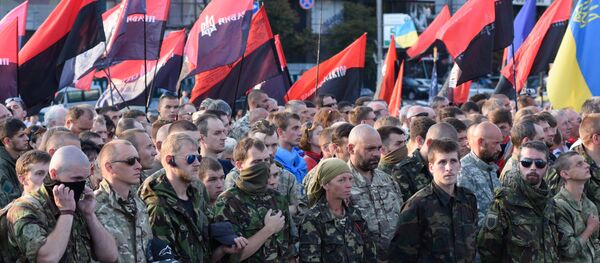 30 September 2016, 09:33 GMT
Ukraine's ultranationalist 'volunteer battalions', spontaneously established across much of the country in the lead-up to the February 2014 Maidan coup d'etat, have played a crucial role in silencing government critics. These forces, including the Azov Regiment, have also served extensively in Kiev's military campaign against anti-Kiev militia in eastern Ukraine. The post-coup Ukrainian government launched its campaign in April 2014, after people dissatisfied with the coup in the country's two easternmost provinces tried break from Kiev's control. Ukraine's far-right paramilitaries have since been accused of engaging in war crimes against civilians in eastern Ukraine.