MOSCOW (Sputnik) – Earlier in the day, the Office of the Director of National Intelligence (ODNI) refused to support the Central Intelligence Agency's (CIA) position on alleged Russian interference in the course of the US presidential elections, aimed at contributing to the victory of US President-elect Donald Trump, Reuters reported, citing three anonymous US officials.
"The story related to the 'hacks' resembles an ordinary clash of the US security forces over the spheres of influence," Zakharova wrote on her Facebook account, commenting on the media reports.
Earlier this week, reports emerged suggesting that US intelligence discovered an alleged Russian hack of Republican National Committee (RNC) computers during the election campaign, but no leaks followed. The Democratic National Committee's (DNC) computers were also hacked this summer, resulting in a number of compromising leaks.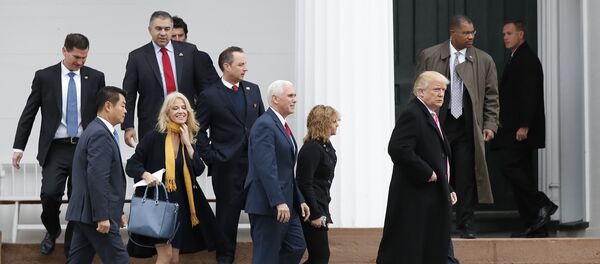 11 December 2016, 19:11 GMT
The CIA claims Russia deliberately targeted the Democrat Hillary Clinton's presidential campaign, because it wanted US President-elect Donald Trump to win, while the Federal Bureau of Investigation (FBI) has reportedly reached opposite conclusions from the same raw intelligence.
Trump has branded the CIA conclusions as ridiculous and comparable to the agency's report that former Iraqi dictator Saddam Hussein had weapons of mass destruction, a false claim that nonetheless led the United States into an unnecessary war with disastrous consequences.
Can you imagine if the election results were the opposite and WE tried to play the Russia/CIA card. It would be called conspiracy theory!

— Donald J. Trump (@realDonaldTrump) 12 декабря 2016 г.
Trump has stated he would limit his contact with the CIA to a single intelligence briefing per week, instead of the customary daily report to the president.