MOSCOW (Sputnik) — This year envisages spending $26 million on the program, while in 2017 and 2018 — $22 million and $38 million accordingly.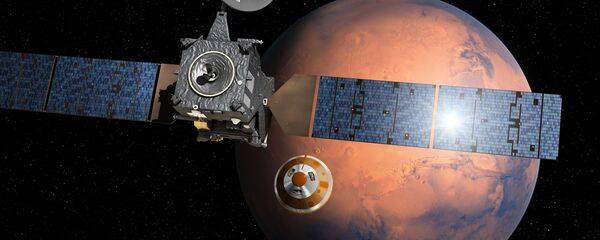 20 October 2016, 11:32 GMT
ExoMars is the first project in the history of collaboration between the EU and Russia aimed at searching life on Mars. The project started with the launch of a Russian four-stage Proton-M/Breeze-M launch vehicle on March 14, 2016 from the Baikonur Cosmodrome, followed by the Schiaparelli demonstrator module's starting a journey to Mars attached to the Trace Gas Orbiter (TGO).
The main aim of the project is the search for evidence of life. Particularly, TGO searches for methane in the planet's atmosphere that could prove the existence of life today or in the past. Schiaparelli's purpose is to test the key technologies for the second ExoMars expedition slated for 2020.
The documentation to the procurement reads that the space complex ExoMars-2018 is designed for delivering equipment to the surface of Mars and carrying out scientific operations. It is expected that the spacecraft will be placed on Mars in April or May 2018.
The agreement between Roscosmos and the ESA on the cooperation in the research of Mars and other Solar system bodies by cybernetic means was signed on March 14, 2013.