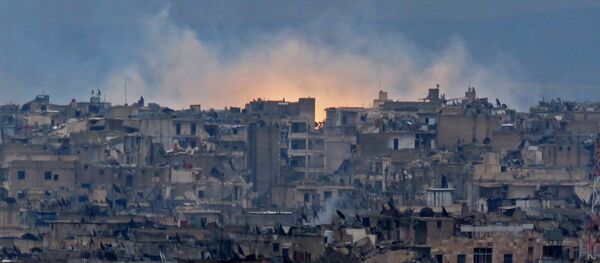 15 December 2016, 18:10 GMT
ANKARA (Sputnik) — More than 1,100 civilians have been evacuated from Syria's Aleppo to the northwestern city of Idlib on Thursday, Turkish President Recep Tayyip Erdogan said.
"Today 1,150 civilians were evacuated from Aleppo, including sick and injured," Erdogan said at a press conference in Ankara as quoted by the NTV television channel.
He expressed hope that the next time there would be no obstacles so that women, children and injured people could move to Idlib and receive aid as quick as possible.
Earlier in the day, the Russian reconciliation center said it was preparing in collaboration with the Syrian authorities to evacuate militants and their families out of the eastern Aleppo in accordance with Russian President Vladimir Putin's order. According to the Russian Defense Ministry, three convoys with evacuees have already left the city.
Over the recent months, Aleppo became a major battleground in Syria with the government troops seeking to liberate the city divided into the western part held by the government and the eastern part controlled by the militants. The Russian reconciliation center said Wednesday only 1 square mile of the city's territory was still under the militants' control.