MOSCOW (Sputnik) – The diplomat was buried with military honors: an honor guard and a military orchestra took part in the ceremony, while the coffin with his body was covered with the Russian flag.
Karlov was shot at an art gallery exhibition opening by Turkish off-duty police officer Mevlut Mert Altintas on Monday. Three more people were also injured in the shooting.
The Russian Foreign Ministry said it considered the attack a terrorist act.
© AFP 2023 / Natalia KOLESNIKOVA
Flowers are placed in front of a portrait of Russian Ambassador to Turkey Andrei Karlov in the Foreign Ministry in Moscow a day after the assassination of the Russian ambassador in the Turkish capital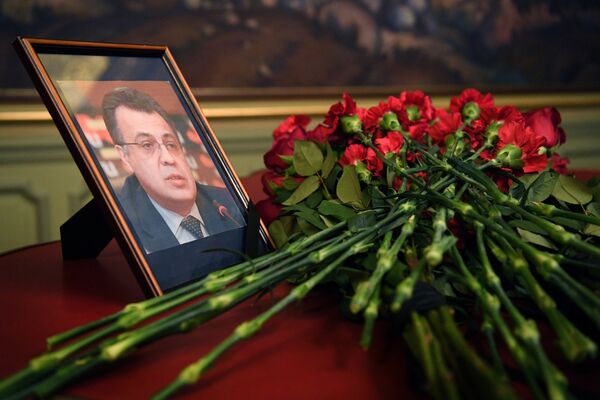 Flowers are placed in front of a portrait of Russian Ambassador to Turkey Andrei Karlov in the Foreign Ministry in Moscow a day after the assassination of the Russian ambassador in the Turkish capital