"Luckily calm has prevailed in both countries and I think they will be cooperating as a result of this incident. Turkey and Russia identified this as an attempted plot to provoke and incite a wedge between the relations but I think they will push through," Ergun said.
He further said that both Turkey and Russia are going through a harsh period right now but as long as the relationship between the two countries persists, they will be able to overcome any challenges together.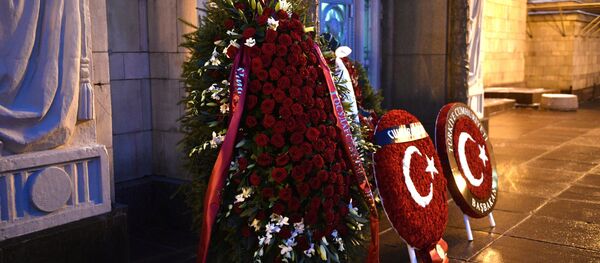 22 December 2016, 13:32 GMT
Talking about various projects that the two countries are working on together such as the Turkish Stream and whether they could be delayed or actually cancelled due to the Syrian crisis, the expert said, "The projects will continue to work as long as the cooperative atmosphere between Russia and Turkey remain."
"Russia has asked of forming an investigative team increasing security of Russian diplomatic personnel in Turkey and as long as the cooperative environment remains, I don't think any projects will be delayed," Ergun said.
Looking at the future of the bilateral relations between the two countries the expert said that this crisis may even allow the countries to overcome some of their differences and collaborate on some more practical areas.
"It is possible that the two countries will share more intelligence with each other, especially in regard to foreign terrorist networks," the expert concluded.
During the attack three more people were also injured. The Russian Foreign Ministry said it considered the attack a terrorist attack.  Ankara pledges to find the perpetrators of the assassination of Russia's ambassador to Turkey and fully inform Moscow of its investigation, Turkish National Defense Minister Fikri Isik said Tuesday.