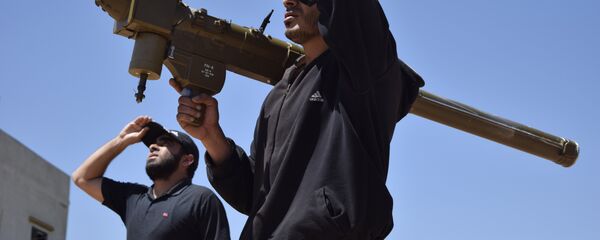 28 December 2016, 02:42 GMT
Outgoing President Obama has recently signed into law a massive Pentagon spending bill, known as the National Defense Authorization Act (NDAA) which eases restrictions on weapons transfers to Syrian opposition groups.
The document allows the deliveries of US-made handheld anti-aircraft weaponry, or MANPADS. Russia has already denounced the decision calling it a hostile act which threatens Russian forces and could lead to terrorist attacks on airplanes, especially given that Daesh jihadists that the so-called "moderate" rebels claim to be fighting against have no aircraft in operation.
The choice therefore is limited, as only Syria, Russia, and the US-led coalition are using aircraft in Syria.
Weapons Manufactured In Europe and US Are Found In Aleppo
Commenting on the recent decision of the outgoing US president, RIA Novosti observer Aleksandr Khrolenko has suggested that the outgoing democrats are harboring hopes of a return to both the White House and to the Middle East, having invested heavily in anti-Russia policies and military actions in the Middle East.
"Therefore they need to ramp up the war and military intervention in Syria and preserve the explosive situation in other countries of the region," he writes in his article for RIA Novosti.
"The new law allows deliveries of arms directly to terrorists (as opposition) and through third countries, It is only logical to assume that Washington will try to ship as many high- tech armaments to the Syrian militants as possible, and money for financing the educational centers for the so-called "moderate" opposition, before the upcoming changeover (January 20)," the journalist says.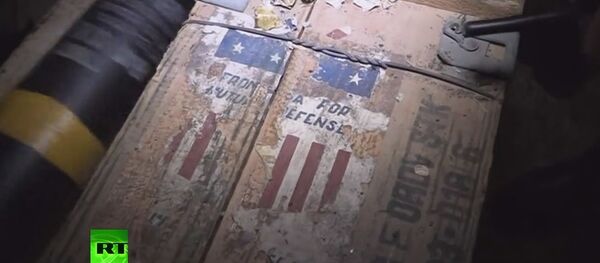 28 December 2016, 16:08 GMT
He further recalled that the failed US' attempts to separate "moderate" rebels from jihadists in Syria revealed that Washington has no idea what the Syrian "jihad" is all about, is unable to even define what "moderate" opposition entails, and has no control over the strategy and tactics of the armed groups operating with abandon in the region.
Moreover, it has no desire to get more involved directly, but is happy simply "throwing more wood into the fire."
"Both Washington and Brussels only claim that they are in favor of a peaceful settlement of the Syrian conflict. Their real interest is in natural resources, hydrocarbon resources, uninhabited territories. In the XXI century, war remains the best and apparently only means of economic development and well-being of the western countries," Khrolenko says.
The destroyed economy and social infrastructure in Libya do not prevent pumping cheap oil from the country, he says. The arms which were supplied to Libyans by France are now being fired in Yemen. The same is going on in many African countries and in the Middle East.
"If it is not a chain of errors but a very well thought out scheme, and the Syrian militants are part of the long-term strategy of the West. And it would be a tough task for the Trump administration to distance itself from it, even if they wish to," he states.
Meanwhile Russian sappers deployed to Aleppo made a sensational discovery this week, uncovering a weapons cache left behind by anti-government militants filled to the brim with ammo for heavy weapons manufactured in countries including the US, Germany and Bulgaria.
The Russian group has also found brand new, pristine 122 mm mortar shells, hand grenades and grenade launchers, missiles for multiple rocket launch systems and howitzer shells in a rebel hideout. The source of many of these weapons is clearly marked, with some of the ammo boxes featuring stickers marked 'From USA for Mutual Defense'.
Never miss a story again — sign up to our Telegram channel and we'll keep you up to speed!