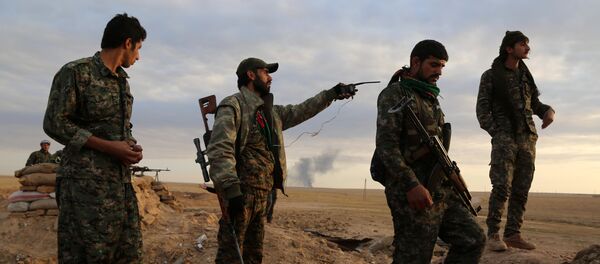 30 December 2016, 20:08 GMT
MOSCOW (Sputnik) — Kurdish-led Syrian Democratic Forces (SDF) on Friday launched an operation to liberate the Syrian town of Mahmudli, located to the north from Raqqa, from the Islamic State (Daesh), the SDF said in a statement.
"The operation was launched on Friday morning to liberate the town of Mahmudli from the Daesh militants, withing the Wrath of Euphrates operation. At least 10 militants were eliminated in clashes near the town," the statement said.
Mahmudli is located 55 kilometers (34 miles) from Raqqa, on the road between Raqqa to Al Bab, both being under control of the Daesh.
Last month, the Kurdish-led forces announced Operation Wrath of Euphrates to reclaim the city of Raqqa from the militants. Captured in 2013, Raqqa serves as the Islamic State's de facto capital in Syria. Daesh has been outlawed by the United States, Russia and other nations.