"The United States cannot pretend to be a model of democracy for the world while it discriminates against 3.5 million of its citizens in Puerto Rico, depriving them of their right to political, social and economic equality under the US flag," Rosselló said, in a Spanish-language inauguration speech. He announced that Puerto Rico would hold elections for two Senators and five Congressional representatives before pushing for statehood, a tactic successfully used by Tennessee to join the union in 1796.
At 37-years old, Ricardo Rosselló is the youngest governor in the United States. A former stem-cell researcher with Duke University and political commentator, he won the vote in November 2016 as a candidate for the center-right New Progressive party. New Progressive supports Puerto Rican statehood, as opposed to the center-left Popular Democratic party that Rosselló defeated, which supports Puerto Rico remaining a commonwealth. 
Rosselló is a political outsider, but has captured the hearts and minds of many Puerto Ricans. "This is a historic moment for Puerto Rico," said 50-year-old Jose Davila, a member of the New Progressive party. "[Rosselló's] the hope of our island, he's the hope for statehood, he's the hope for a people that have suffered."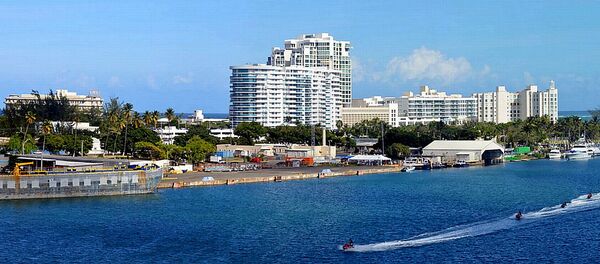 17 December 2016, 19:12 GMT
Puerto Rico has been in the throes of an economic crisis that began in 2006, following measures passed by President Bill Clinton a decade earlier, abolishing a section of the US Internal Revenue Code that allowed US corporations to obtain tax breaks if they incorporated on the island. After Clinton's pronouncement, companies fled Puerto Rico and the territory found itself with a large budget deficit. In 2005 the economy fell into a depression. 
The island's population has steadily shrunk since that time, from 3.8 million in 2000, to 3.5 million in 2015 as people flee the island to seek jobs. To prevent a government default, former governor Alejandro Garcia Padilla levied dozens of new taxes, sending his approval ratings into a downward spiral. Many in Puerto Rico believe that the additional benefits and privileges they would have as a state would make it easier for them to repair the island's ailing economy.
Rosselló's plan to save Puerto Rico is multi-faceted. He wants to draw business back to Puerto Rico, work closely with the US federal government to restructure the island's $70-billion debt, reduce the wage gap between female and male government employees, reduce government expenditure, privatize Puerto Rico's energy services, create an oversight agency to fight widespread government corruption, and increase doctor pay. Several of these measures have already been implemented in day-one executive orders.

3 November 2016, 20:56 GMT
Historically, to become a state, territories jumped through many legislative hoops. First, it had to hold a referendum to show that a majority of citizens supported statehood. Rosselló has promised to enact one such referendum. A territory would then adopt a government and constitution in compliance with the US constitution. Puerto Rico has done this already. Both houses of the US Congress would then have to pass a joint resolution to accept the territory as a state. Lastly, the sitting US president would sign the joint resolution. President-elect Donald Trump said in January 2016 that he would support Puerto Rican statehood, if its people did as well.
If Puerto Rico became the 51st state, it would be the first state to join the union since Alaska and Hawaii both entered in 1959. Among significant political changes resulting from the entry of 3.5 million new presidential voters and seven new Congressmen; a new star would have to be added to the United States flag.