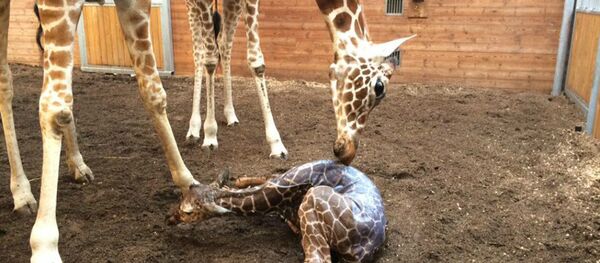 22 September 2016, 12:48 GMT
The giraffe kid only managed to be part of the Copenhagen Zoo giraffe family for about a day. The calf was born Saturday night, only to be put down on Monday. It was euthanized because of severe peritonitis, the Danish daily
Jyllands-Posten
reported.
Copenhagen Zoo Chief Veterinarian Carsten Grøndahl tried to save the baby giraffe together with two of his colleagues, but failed. By his own admission, he has rarely seen an infection spread that quickly.
"Apart from a mild umbilical hernia that we observed on Sunday morning, there was no sign that the baby was sick," Carsten Grøndahl said in the press release. "However, by Monday morning it was already spending more time lying down than standing up," he continued.
A closer look, however, revealed that the vets wouldn't be able to rescue the animal.
"There was not much we could do, so in the afternoon we decided to put it down," Grøndahl explained.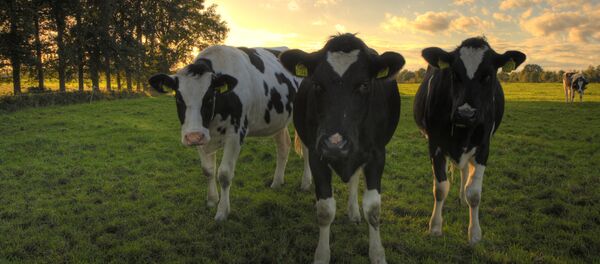 11 October 2016, 13:56 GMT
The zoo expects the calf's mother to become pregnant again soon.
In 2014, the Copenhagen Zoo notoriously culled two-year-old Marius the Giraffe, who was condemned as 'surplus animal' without actually being inbred or having major deficiencies. The ill-fated giraffe was barred from breeding and was subsequently shot in the head using a bolt gun. More "compassionate" ways of euthanizing, such as a lethal injection, were rejected since the giraffe carcass was later dissected and fed to a pride of lions in front of a crowd of gaping onlookers. The grizzly process was watched by a huge crowd of onlookers, including children, who according to Copenhagen Zoo received "a huge understanding of giraffe anatomy."
Before the culling, numerous zoos and private entrepreneurs volunteered to take care of the "sentenced" giraffe, offering up to $600,000 for the animal. According to the BBC, Copenhagen Zoo has also "put down leopards, tigers, lions, bears, antelopes and hippos in recent years."