The unnamed woman, a resident of Washoe County in her 70s, had spent several years living in India. While there, she broke her leg, which led to a bone infection leading to several stays in Indian hospitals. Upon her return to the US, she was taken to a Reno, Nevada, hospital for treatment of her infection.
But researchers were startled to learn that the woman's illness resulted from a Carbapenem-resistant Enterobacteriaceae (CRE). CREs are superbugs that produce an enzyme making them resistant to carbapenems, the antibiotics meant to treat drug-resistant infections. 
Not only did the woman's CRE resist the 14 drugs the Reno hospital used in their attempts to treat her, but the Centers for Disease Control and Prevention (CDC) examined a sample and concluded that no antibiotics available in the US could have helped.
CDC director Tom Frieden has called CREs "nightmare bacteria." A 2013 CDC report warned of "potentially catastrophic consequences" if the threat of antibiotic-resistant infections is ignored.
30 December 2016, 13:40 GMT
"Each year in the United States, at least 2 million people become infected with bacteria that are resistant to antibiotics and at least 23,000 people die each year as a direct result of these infections," the report read.
CDC official Alexander Kallen admitted to anxiety among epidemiologists over CREs, and other superbugs. "We have relied for so long on just newer and newer antibiotics. But obviously the bugs can often [develop resistance] faster than we can make new ones," he told Stat.
The world health community has concurred. "This serious threat is no longer a prediction for the future, it is happening right now in every region of the world and… is now a major threat to public health," read a 2014 World Health Organization report.
A report by the British government's Review on Antimicrobial Resistance found that the number of antibiotic-resistant infections will rise exponentially in coming decades, reaching an estimated 10 million annual casualties by 2050. The UN General Assembly met on the issue in September 2016, but no comprehensive solutions were proposed or implemented.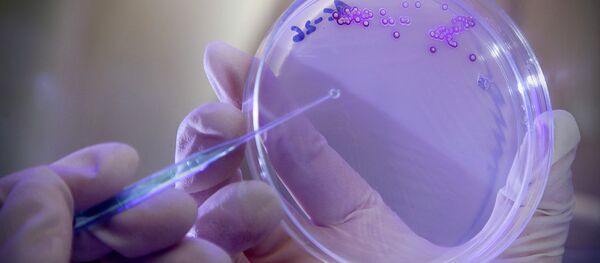 CREs are primarily created in hospital conditions. Antibiotics are used to kill bacteria, but some antibiotic-resistant bacterias propagate, spreading throughout medical centers, and beyond. Dr. James Johnson, professor of infectious diseases with the University of Minnesota, doubts that the woman's bug came from an Indian hospital. 
"It's possible that this is the only person in the US and she had the bad luck to go to India, pick up the bad bug, come back and here it is, we found her and now that she's dead, it's gone from the US. That is highly improbable."
The other primary method for antibiotic-resistant superbugs to spread is through contaminated food, both in meat products and crops that used contaminated fertilizer or water.