MOSCOW (Sputnik) – Syrian authorities and opposition groups from four cities located in Syria's Damascus province agreed on combating against Daesh in the talks mediated by the Russian reconciliation center, the Russian Defense Ministry said Saturday.
"Under the facilitation of the Russian Center for reconciliation of opposing sides, the Syrian authorities have reached agreement with opposition groups, which had joined the ceasefire regime in the Nasiriya and Ruheiba as well as in Jeirud and al-Otnee, on participation in the warfare against Daesh terrorists," the ministry said in a daily bulletin on its website.
Since 2011, Syria has been engulfed in a civil war, with government forces fighting against numerous opposition and terrorist groups, including al-Nusra Front and Daesh, which is banned in a range of countries, including Russia.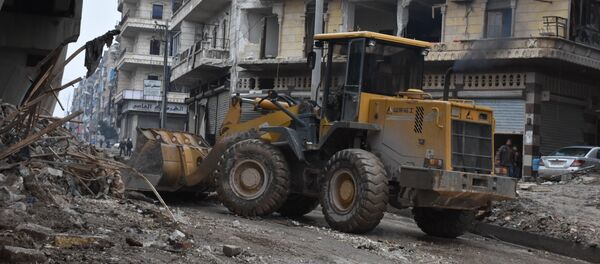 14 January 2017, 13:09 GMT
Russian President Vladimir Putin announced in December that the Syrian government and armed opposition groups had reached an agreement on a nationwide ceasefire in Syria and on readiness to start peace talks.
Daesh is a terrorist organization outlawed in many countries, including Russia.
Never miss a story again — sign up to our Telegram channel and we'll keep you up to speed!