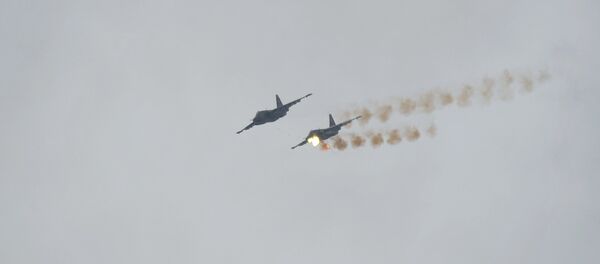 18 January 2017, 14:02 GMT
On Wednesday, the Russian General Staff said that Russian and Turkish combat planes had carried out their first joint aerial operation against Daesh targets in Syria.
"Nine strike aircraft of the Russian Aerospace Forces, including four Su-24M, four Su-25 and one Su-34 bomber, as well as eight Turkish Air Force jets — four F-16 and four F-4 aircraft — were involved in the aerial campaign agreed upon with Syrian authorities," Lt. Gen. Sergei Rudskoy, the chief of the Russian General Staff Main Operational Directorate, said at a news briefing in Moscow on Wednesday.
"A total of 36 targets have been struck. I want to emphasize that they have been agreed upon in advance through the General Staffs and commands of aviation groups of the two countries," he added.
RIA Novosti political analyst Alexander Khrolenko attempted to analyze how Turkey, a NATO member since 1952, ended up cooperating militarily with Russia, the North Atlantic alliance's longstanding, if unofficial, foe.
"Turkey has become the first NATO state to build up its military cooperation with Russia in the fight against Daesh," reads his article for RIA Novosti.
"The evident paradox is that the mechanism of military regime change has definitely failed in Syria. From now on, yesterday's instruments — the American alliance and various rebel units – become only a hurdle on the way towards a new peaceful configuration in the region, where Ankara is eager to remain a key player," the author explains.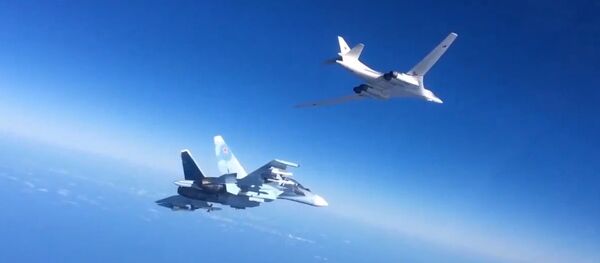 19 January 2017, 15:32 GMT
He further suggests that Turkey, however, has an alternative to cooperation with Russia, and that is further inconsistent operations within the US-led coalition. This isn't a reasonable option for any rational Turkish politician, as Ankara would then be marginalized during the resolution of the Syrian conflict.
Khrolenko then reviews the recent operation of the US-led coalition near the Iraqi city of Mosul, which came down to the squeezing of considerable Daesh forces out of Iraq into the eastern part of Syria with large arms stockpiles, explosives and ammunition. The militants then redeployed in the direction of Palmyra, Deir ez-Zor and Al-Bab, which is 30km south of the Turkish border.
"In such a complicated situation, Turkish President Erdogan has made an unusual albeit correct decision – "to change the coalition" and managed to jump into the "bandwagon of the Syrian train," he says.
"The failed July coup might have contributed to the re-evaluation of values. It is much more pleasant to feel like a sovereign president than a NATO hostage," the author adds.
However he further notes that the join Russian-Turkish military operation has gone unnoticed by the mainstream media, which was so vocal about the liberation of militant-held areas in eastern  Aleppo.
He then suggests a reason for the silence: under the rules of the big geopolitical game, a NATO country simply can't bomb civilians. Hence the media will be forced to admit that Russia, together with Turkey, is fighting against terrorism. Thus, it is better to keep silence, especially during a major power change in Washington.
Never miss a story again — sign up to our Telegram channel and we'll keep you up to speed!