"The definition 'unpredictable' has already firmly stuck to Donald Trump, hence we can easily suggest that the process of 'solving this riddle' will continue as long as the new US president stays in the White House," the political scientist writes in his article for RIA Novosti.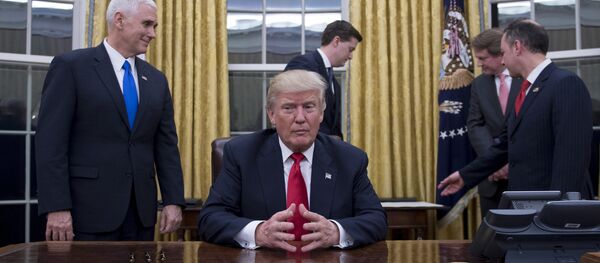 22 January 2017, 08:03 GMT
He makes reference to the recent analysis of the US leader by Shlomo Ben-Ami, a former Israeli foreign minister and current Vice President of the Toledo International Center for Peace.
"Some in the United States have praised President-elect Donald Trump for his supposed realism. He will do what is right for America, they argue, without getting caught up in thorny moral dilemmas, or letting himself be carried away by some grand sense of responsibility for the rest of the world," he wrote in his article for the Czech-based website Project Syndicate ahead of the inauguration of the new US leader.
"It is certainly true that Trump will not be caught up in questions of morality. He is precisely what the Greek historian Thucydides defined as an immoral leader: one of 'violent character' who 'wins over the people by deceiving them' and by exploiting 'their angry feelings and emotions,'" Ben-Ami suggests.
This sounds convincing, Pshenichnikov admits. It is highly unlikely that a man tormented by qualms of conscience would be capable of becoming a high-profile businessman with a sizable fortune.
Nevertheless, he argues that morality, or rather its absence, is only a secondary factor. The real question is how Trump will perform on the international stage, he says.
Many experts, he says, are making their predictions based on Trump's speeches and interviews, which have seriously scared the American establishment and Western European elites.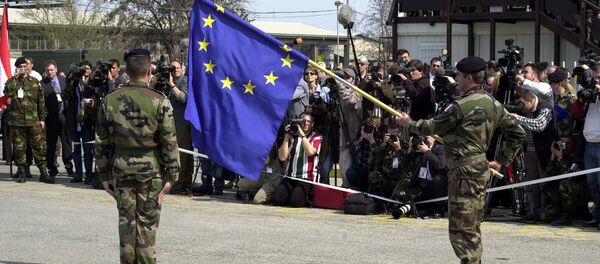 16 January 2017, 23:38 GMT
Pshenichnikov cites as an example the recent response of French politician Manuel Valls, who was the Prime Minister of France from 2014 until 2016, to Trump calling NATO an obsolete alliance. On Monday, Valls called the US President's remarks about the European Union and NATO a "provocation and a declaration of war on Europe."
However, Pshenichnikov further notes that very few American presidents, if any, have been able to cardinally change the policies of their predecessors. Additionally, hardly any resident of the White House ever fulfills his electoral promises.
Obama, for example, had promised to close the Guantanamo Bay Detention Center, which remains open. It still operates as a special detention facility for suspected terrorists caught by Americans in other countries.
Nor has any American president been able to pursue his own foreign policy doctrine in a way that differed fundamentally from those of his predecessors. The only exception, the political analyst says, was the foreign policy of 39th US President Jimmy Carter (1977-1981), who made human rights the cornerstone of his foreign policy.
Carter's preferred policy of human rights protection and non-interventionism was not even altered by the events in Central America in 1979, when the revolutionary Sandinista movement prevailed over the US puppet Nicaraguan President Anastasio Somoza, who was forced to resign when the US cut his foreign aid.
With all the above in mind, Pshenichnikov further reviews whether there are any chances that Trump will flinch from the anti-Russian mindset of the American elites.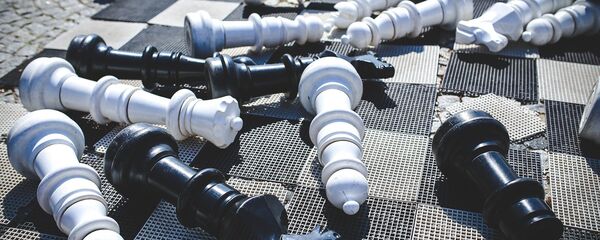 21 January 2017, 18:20 GMT
Much, he says, will depend on who from Trump's inner circle will be able to have the most impact on him. The key players will be the Pentagon's head, US Secretary of Defense James Mattis, Secretary of State nominee Rex Tillerson and 25th and current National Security Advisor Michael Flynn.
Mattis has already voiced his strategy on confronting Russia, he says. Flynn is a retired US Army lieutenant general, meaning that he is more of a "hawk" than a "dove".  Tillerson, however, is on the other side, the political analyst says, publicly doubting the efficiency of the anti-Russian sanctions.
Pshenichnikov further wonders who will be more convincing in his communication with the new president, noting that American political analysts already predict that there will be a real fight between the above people and the structures they head.
This fight, he says, will certainly leak into mass media and we will be able to watch it unfolding. The winner, he says, will get the priority access to Trump and thus more influence on the president.
Never miss a story again — sign up to our Telegram channel and we'll keep you up to speed!