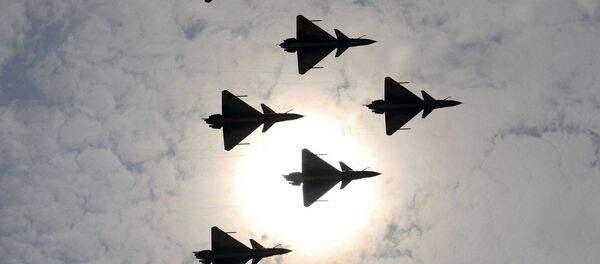 26 January 2017, 14:57 GMT
The photos of an unusually large "air-to-air" rocket have prompted rumors over the People's Liberation Army Air Force (PLAAF) adopting a new long-range missile system.
According to Russian military expert Vasily Kashin, the missile in question could have been the so-called PL-15 air-to-air missile.
Back in September 2015, Pentagon officials raised the alarm over China's most advanced air-to-air missile, referred to as the PL-15.
It was reported that the new weapon boasted a powerful rocket motor that could potentially give it an advantage over America's main air-to-air missile AIM-120 in terms of firing range.
​In his 2015 interview with Flight Global magazine Head of the Air Force's Air Combat Command Gen. Herbert Carlisle stressed that he regarded outmatching the Chinese PL-15 air-to-air missile as "exceedingly high priority" for the US.
"The PL-15 and the range of that missile, we've got to be able to out-stick that missile," Carlisle underscored.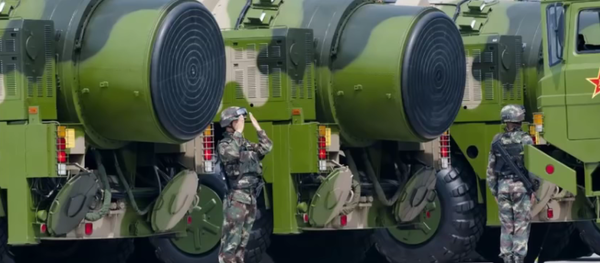 27 January 2017, 09:50 GMT
Speaking to Sputnik, Kashin noted that the PL-15 test images have been repeatedly circulated on the Internet, adding that its mockup was also demonstrated at China International Aviation & Aerospace Exhibition in Zhuhai.
Being more than six meters long the new rocket is believed to be a potential replacement for China's current main air-to-air weapon PL-12, an active radar-guided beyond-visual-range missile.
However, while the PL-12 has a range of approximately 100 kilometers, the P-15 is reportedly capable of destroying targets at a distance of 300km or even 400km, Kashin pointed out.
The Russian military expert remarked that the PL-12 missile was developed by the People's Republic of China in the late 1990s — early 2000s with the assistance of Russia's manufactures and extensive use of Russian components including an active radar homing head. However, it is not clear whether or not Russian specialists were engaged in further refinement of long-range missiles in China.
For its part, Russia's Air Force currently uses the R-77 (NATO code name: AA-12 Adder) medium range, active radar homing air-to-air missile system with a firing range of 110km.
© Flickr / Pavel Vanka
Mig-31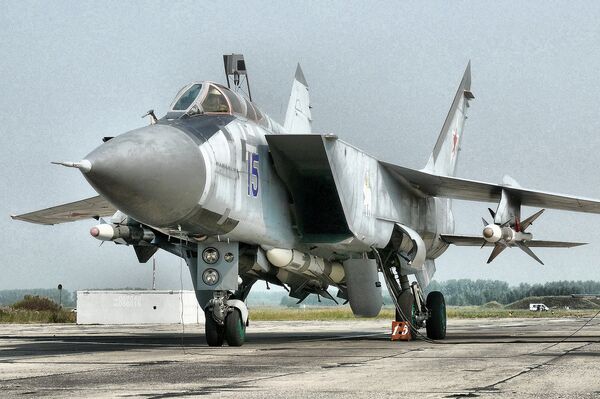 Mig-31
At the same time, Russia's MiG-31 fighter jets can also be equipped with R-33 (AA-9 Amos) and R-37 (AA-X-13/AA-13 Arrow) long-range air-to-air missiles boasting an operational range of 160km and 300km respectively, Kashin elaborated.
"If the PL-15 has not yet gone into service, the R-37 can be considered as the most long-range air-to-air missiles in the world; but if [the PL-15] has been already adopted, it means [the R-37] has possibly lost its top position," Kashin told Sputnik.
However, Russia is now creating a new version of the R-37, known as R-37M or RVV-BD air-to-air missile, which exceeds its predecessor in terms of firing range, the military expert underscored.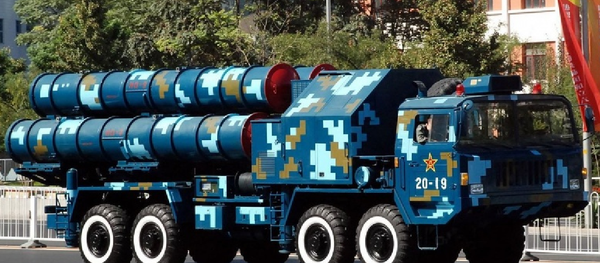 25 January 2017, 09:30 GMT
Kashin elaborated that the air-to-air missiles are primarily used against early warning aircraft, electronic warfare and intelligence aircraft as well as large military transport planes and bombers. However, the probability of air-to-air missile hitting a tactical fighter at a large distance is rather low, he remarked.
Still, it would be a great success for the Chinese defense industry if it launches mass production of the PL-15-like weapons, the Russian military expert underscored, adding that in that case the Pentagon will obviously have reasons for concern.
Earlier this week the China Daily reported that the photo of a J-11B fighter jet armed with an unknown rocket almost one-fourth of the length of the 22-meter-long plane was published on the People's Liberation Army website.
According to the media outlet, the picture was taken during the PLAAF military drills in northwestern China in November 2016.
In an interview with the newspaper, military expert Fu Qianshao suggested that China was developing an advanced long-range missile air-to-air missile capable of hitting targets at a distance of up to 400km.
"Successful development of this potentially new missile would be a major breakthrough in the [Chinese] Air Force's weapons upgrade," the expert said.