On Thursday there were over 70 contractors, regulators, Magellan representatives, and emergency crewmembers on the scene. While the cause of the leak is still under investigation, the company reports that repairs are expected to begin soon and that operations on the affected parts of the pipeline have been halted.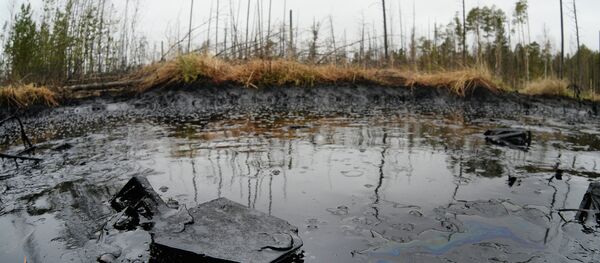 19 December 2016, 22:15 GMT
At a Wednesday news conference Jeff Vansteenburg, a representative from the Iowa Department of Natural Resources, told the Des Moines Register, "The product is under pressure, so as soon as a leak develops, it starts coming out pretty fast," adding, "Vacuum trucks are sucking up as much liquid as they can and taking that down to Magellan's terminal…Once they've recovered all the free product that they can then they will go in and remove contaminated soil."
Vansteenburg noted that the oil had not yet reached a nearby wildlife protection area or neighboring Willow Creek. Reports claim that crews had cleaned up about 25,000 gallons of oil by Wednesday afternoon.
The underground pipeline runs through Iowa, Minnesota, Illinois, Wisconsin, North Dakota and South Dakota. A 2014 safety plan submitted to Magellan by the US Department of Transportation says that a number of refined oil products are carried through the pipeline, "including Diesel, Gasoline, Jet fuel, Natural gasoline, Naptha, Propane, Natural Gas (and) Butane."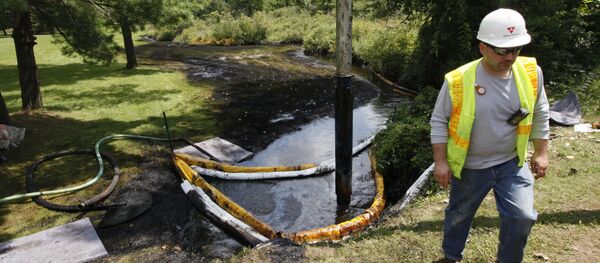 25 October 2016, 22:14 GMT
Magellan paid a $46,200 civil penalty in 2010 for Clean Water Act violations, after roughly 5,000 gallons of diesel fuel spilled into a Milford, Iowa, waterway. 
The latest petrochemical spill is another point of public concern over US President Donald Trump's recent signing of memorandums ordering the completion of the Keystone XL and Dakota Access pipelines, both of which have been the center of protests in recent years.
Jesse Coleman, a researcher with Greenpeace, told The Guardian, "This really speaks to the central problem, which is that we're not even surprised that this company spilled something out of a pipeline because it's inevitable…That's what's really frightening about these larger pipelines."
He added, "You can never really rehabilitate an area that got soaked in gasoline. Even this spill, it can't be cleaned up…That gives you some idea of what will happen when the Dakota Access pipeline or the Keystone XL pipeline fails. It's irreversible."