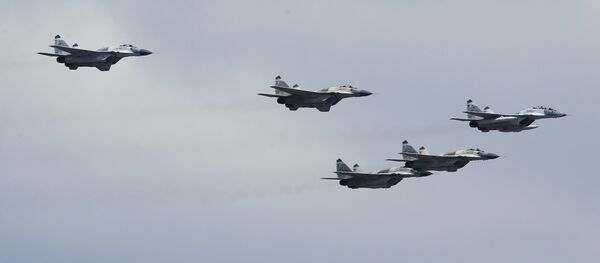 23 December 2016, 08:26 GMT
LUKHOVITSY (Moscow Region) (Sputnik)
–
Russia is preparing a response to Argentina's commercial offer on the purchase of over 15 MiG-29 fighter jets, Deputy Director of the Russian Federal Service for Military-Technical Cooperation (FSMTC) Anatoly Punchuk said Friday.
"Argentina has sent a commercial offer for the purchase of more than 15 MiG-29s in Russia, we are preparing an appropriate response," Punchuk said at the unveiling of an advanced MiG-35 multirole fighter.
The Russian Mikoyan MiG-35 (Fulcrum-F) jet fighter is a further development of the MiG-29M/M2 and MiG-29K/KUB.
Never miss a story again — sign up to our Telegram channel and we'll keep you up to speed!