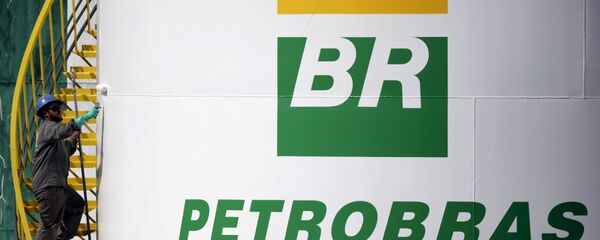 16 December 2016, 21:12 GMT
In December, Brazil's national oil company produced a record 2.3 million barrels of oil per day (bpd), three percent more than in December 2015. Output reached 2.4 million bpd on December 28.
The record output came despite the company's involvement in a far-reaching corruption scandal that contributed to the impeachment of Brazilian President Dilma Rousseff last year.
In 2016, Petrobras also produced a record average 1.02 million barrels per day from its "pre-salt" oilfields, located under a two-kilometre-thick layer of salt in the Brazilian continental shelf.
Rivaldo Neto, a manager at one of Brazil's largest consulting firms Gas Energy, told Sputnik Brasil that the increase is a result of management changes and the exploitation of new oilfields.
"In recent years, until 2014, we saw a company that promised a lot in strategic plans but that didn't bring results. Since last year, when the management and planning of production were changed, we have seen a company that can provide a continuous supply to the market. These records should have been beaten a long time ago."
© AFP 2023 / EDSON PASSARINHO
Partial view of the Petrobras P-51 semi-submersible off-shore oil platform construction site at the Brasfelf shipyard in Angra dos Reis (File)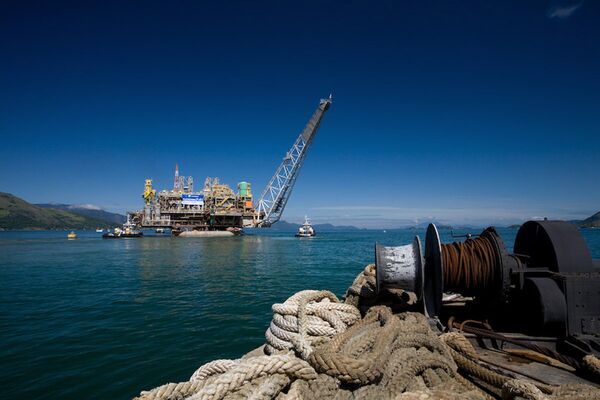 Partial view of the Petrobras P-51 semi-submersible off-shore oil platform construction site at the Brasfelf shipyard in Angra dos Reis (File)
Neto said that much of the increase in production is because of a kickstart to projects which had been long in the planning, including drilling at the Campo de Lula oilfield.
"You can get up to 150 thousand barrels per day and 5 to 6 million cubic meters of gas a day from this type of platform. Maybe Campo de Lula will produce even more this year. These records are also a consequence of the fact that Petrobras has started to earn normally again, the promised systems of production are beginning to work. There were projects which failed to start between 2014 and 2016," Neto said.
"The reorganization of Petrobras is ongoing, the company is meeting its internal goals and now we are able to build forecasts. There has been an important evolution in the standards sector (with the arrival of the new government), now it is not necessary any more for Petrobras to participate in all shelf projects."
In July, Brazilian parliament's lower house adopted a bill to scrap Petrobras' exclusive right to explore the country's pre-salt oil reserves, a move which critics called a step towards the privatization of the state-run oil and gas giant. However, Neto said that the legislation will allow for much-needed foreign investment.
"This should attract investment from other large global private companies, which had ceased investing in Brazil, because before they couldn't invest without the mandatory participation of Petrobras in the project. With this improved organization and long-term presence of private capital, we will of course be able to achieve a level of production that will fully satisfy the country's demand for oil."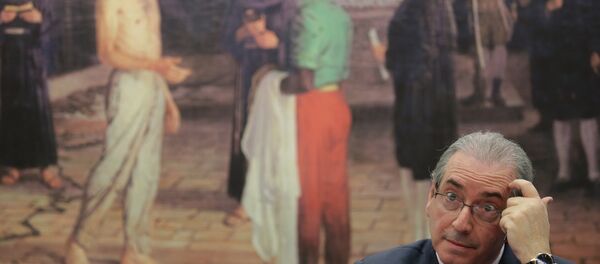 19 October 2016, 18:34 GMT
December's record output also came despite a 
strike by Petrobras workers
 announced on December 23. Employees rejected a new wage offer that proposed a six percent salary increase, below Brazil's 8.9 percent rate of inflation.
On August 31 2016 the Brazilian Senate impeached President Dilma Rousseff after finding her guilty of illegally manipulating the government budget by moving money between accounts in order to mask deficits. However, Rousseff denied any wrongdoing and maintained that shifting money between budgets was also common practice among her predecessors.
As Rousseff was facing impeachment proceedings, several members of her government were also embroiled in a corruption scandal involving Petrobras, which alleged that government and Petrobras officials awarded overblown contracts to Petrobras contractors in return for bribes.
Since launching the "Operation Car Wash" investigation into corruption at Petrobras n 2014, Brazilian police have brought criminal charges against more than 250 suspects, scores of whom have been convicted.