Last week's Hyperloop competition pitted 27 research teams against each other for the chance to test-drive their model pods in a test tube built by SpaceX at its headquarters in Hawthorne, California.
Proposed by SpaceX founder Elon Musk in 2013, the Hyperloop system envisages mass transportation at speeds of up to 1300km/h via low-pressure tubes.
According to Musk, the technology would be ideal for connecting cities at a distance of up to 1500km. Beyond that, the supersonic planes of the future will end up being faster and cheaper.
Following the competition, SpaceX released a video which takes viewers on a trip through the 1.25km tube, showing what a ride in a Hyperloop pod might be like.
An initial 27 finalists showed their pods at the competition, before they were whittled down to three teams. 
Students from Massachusetts Institute of Technology, Munich Technical University and Delft University of Technology got the chance to send their pods for a test drive to see whose model was most impressive.
​This video shows the MIT model levitating as it travels through the test tube.
​The entry by Delft University of Technology won the highest overall score, while the WARR team from Munich Technical University won a prize for reaching the fastest speed in the tube.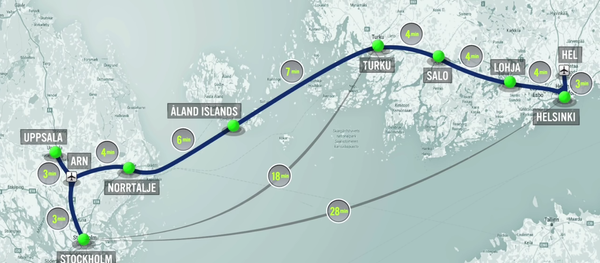 21 November 2016, 09:30 GMT
The Hyperloop design proposed by Musk in 2013 envisaged a solar-powered low-pressure tube with capsules supported on a cushion of air. The capsules would be accelerated via a magnetic linear accelerator affixed at various stations on the tube. 
Although he proposed the design, Musk decided not to pursue the Hyperloop idea himself but threw it open to interested engineers and students.
Several start-ups have been working on the initiative, notably Hyperloop One and Hyperloop Transportation Technologies (HTT), which in December submitted a proposal to India's Ministry of Road Transport and Highways for setting up ultra-fast transport systems in Indian cities.