25 September 2016, 18:27 GMT
The Russian newspaper
Rossiyskaya Gazeta
quoted Sudhir Kumar Mishra, chief executive of the Russian-Indian joint venture BrahMos Aerospace, as saying that India will test-fire the air-launched version of his company's supersonic Russian-Indian BrahMos cruise missile in the next three months.
Mishra also said that the hypersonic version of the BrahMos missile, capable of flying at a speed of up to 5,000 kilometers per hour, may be created by 2020.
The 2.5 metric ton supersonic Brahmos air-to-ground missile will be fired from an Indian Air Force's Sukhoi-30 MKI fighter aircraft that has already undergone modifications to accommodate the new weapon.
© Sputnik / Ilya Bogachev
The BrahMos missile on display at the MAKS-2015 air show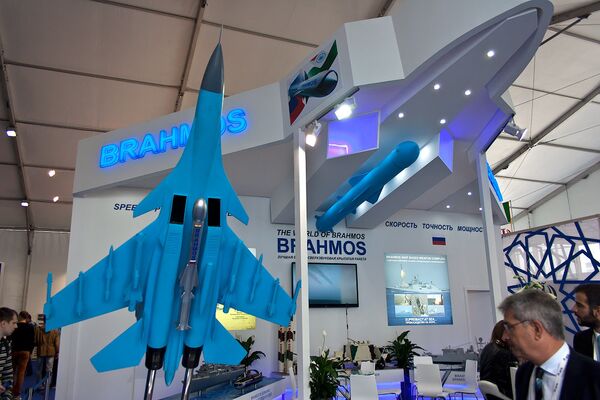 The BrahMos missile on display at the MAKS-2015 air show
© Sputnik / Ilya Bogachev
A successful preliminary trial was carried out earlier, and several more dummy trials are in the pipeline before the actual test.
"In March, we will hold three more tests, which will be followed by actual firings on sea and ground targets. However, we are already certain the launches will be successful, Mishra said.
Currently, BrahMos is capable of hitting targets beyond the radar horizon and can be launched from sea-based and land-based weapon systems.
If the air-launched version of the BrahMos missile is successful, Russia and India may get a strike system which will be second to none in terms of effectiveness among conventional airborne weapons, Rossiyskaya Gazeta quoted experts as saying.
The nine-meter BrahMos missile can travel at a speed of Mach 2.8, making it one the fastest missiles in the world. It has a flight range of up to 290 km and carries a 200-300 kg conventional warhead.
As for the supersonic version of the BrahMos missile, it is expected to be created before the end of 2019, Mishra said, adding that the project is being developed by Mashinostroyeniya rocket design, a Russian NPO bureau, the Moscow Aviation Institute and India's Defense Research and Development Organization.
Never miss a story again — sign up to our Telegram channel and we'll keep you up to speed!