The Israeli Defense Ministry reported Sunday that 2016 was a banner year for F-35 partners. Contracts tied to production of the F-35 shot up 33 percent last year for a total of $258 million in new deals for Israeli companies. Since Israel inked a deal to buy 19 F-35 fighters in 2010, Israeli firms have won more than $1 billion in 'buy-back contracts.'
"The scope of industrial cooperation between [Lockheed Martin] and Israeli industry, in just the last year, shows the immense potential inherent in this arrangement for the Israeli economy," Col. Avi Dadon, deputy director of purchasing at the Ministry of Defense, noted.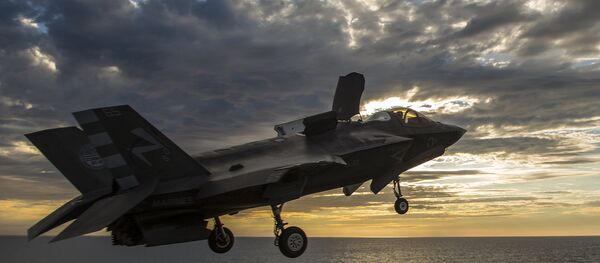 7 February 2017, 21:17 GMT
A bulk of the new revenues stemmed from the F-35 virtual reality helmets. Elbit Systems and Rockwell Collins scored a $206 million contract for headgear production. 
Like the F-35 project as a whole, the F-35 helmets have faced their share of struggles. The 4.5-pound helmets are reported to cause neck problems for pilots. What's more, the visor has been seen to pop off the heads of pilots during take-off. Since the helmets are critical for pilots to visualize flight, mission, and target information, this essentially leaves pilots blind. In a separate incident, Tom Briggs of the US Navy described the helmets as being comparable to "looking through a dirty window" due to a green glow in the display area. 
Meanwhile, Italian officials have complained recently that Lockheed Martin and the US are not following through on jet maintenance contracts. Guido Crosetto, head of Italy's aerospace and defense industry association said Washington has not "honored promises" made when Italy joined the list of US allies to buy the F-35s. 
Back in 2002, Italy was told that it would receive contracts for maintenance work worth 65 percent of the $1 billion Rome invested to buy 90 joint strike fighters, Italian media outlets reported. Italian firms currently have contracts valued less than 20 percent of its initial investment, the official added. Instead, contracts went to places like the UK, the Netherlands and Australia "because the competition favored large companies," Crosetto said.