MOSCOW (Sputnik) — Keith Kellogg was born in 1944 in Dayton, Ohio, the United States.
In 1966, Kellogg graduated from Santa Clara University as Bachelor of Arts in political science.

14 February 2017, 08:19 GMT
Kellogg was commissioned into the Army through Reserve Officers' Training Corps (ROTC) at Santa Clara University.
From 1967 to 2003, Kellogg served in the US Armed Forces.
During the Vietnam War of 1964-1975, he served in the 101st Airborne Division and was awarded with Silver Star and Bronze Star medals.
In 1996, Kellogg took command of the 82nd Airborne Division.
In 2003, he retired as lieutenant general.
Following retirement from active duty, Kellogg joined Oracle Corporation as an adviser to its homeland security division.
In 2003 — 2004, after invasion of Iraq, he held a leading position in the Coalition Provisional Authority.
Since 2005, Kellogg has served as an Executive Vice President of Research and Technology Systems of CACI International Inc.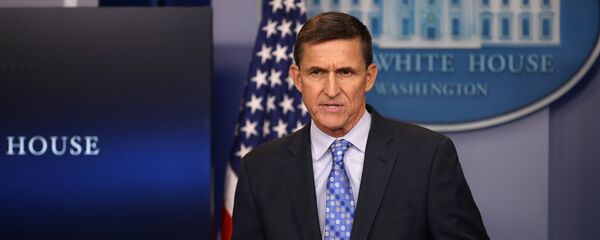 14 February 2017, 04:03 GMT
In 2009, Kellog was invited by Cubic Corp. to take the position of senior vice president for ground combat programs.
In March 2016, US President Donald Trump said Kellogg would be among the foreign policy advisers in his administration, if he won the election.
In December 2016, Trump said that Kellogg would be appointed as chief of staff and executive secretary of the United States National Security Council.
On February 14, 2017, Kellogg was appointed as acting US national security adviser.
Kellogg is married, his wife, has served as US officer, who participated in the 1983 US invasion in Grenada.