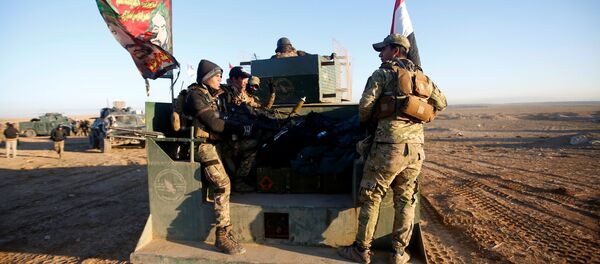 19 February 2017, 04:50 GMT
Iraqi Prime Minister Haider Abadi announced on Sunday the start of the operation to liberate the western part of the city of Mosul from Daesh terrorists.
Radio Sputnik discussed the prospects of Baghdad's military action with a researcher at the UK-based University of Exeter's Strategy and Security Institute, who specializes in Middle Eastern politics and security, Tallha Abdulrazaq, who explained why it is not going to be an easy operation.
"In the short term, it is difficult to say whether there is going to be any "lightning advances". In fact, it is very unlikely to happen. The military operation in the eastern part of Mosul was actually easier. And if we look at the progress the Iraqi army made at that time period, it was very slow," he told Sputnik.
Prime Minister Haider Abadi, he explained, promised to liberate Mosul at the end of 2016. He then failed in his promise. After four months of fighting he only managed to capture the eastern part. The western half is the older part of the city, the streets are narrower there and Daesh (Islamic State, ISIS) has had considerable amount of time to fortify the area, even longer than the eastern half. Hence they will be waiting for the Iraqi foces. The expert suggested that it is going to be rather bloody, not only for civilians or ISIS, but even for the Iraqi army itself.
The spearhead for the operation, he further suggested, will be the country's counterterrorism forces, as usual, but they took quite a severe drubbing on the eastern half, so it remains to be seen how much they will suffer on the western half.
Tallha Abdulrazaq further said that the US-led coalition has several dozens of participating countries, so they will all be there with various air forces. But it is a filled up, densely packed area, so it is questionable how much air power they can actually bring there. In terms of other forces, he said, it is highly possible that there will be great involvement of Shia jihadists backed by Iran, who are fighting under the umbrella of Hashd al-Shaabi, also known as Popular Mobilization Forces, and the federal police.
"So, there will be a convergence of these units, probably together, some of them advancing from Tal Afar on the western outskirts of Mosul, about 60 kilometers west, and some advancing from the south, around the airport, as well as obviously units trying to cross the river," he suggested.
The expert explained that the situation remains very complicated, it is very dangerous both for civilians and combat forces. Daesh strength there does not actually depend on the number of fighters left, which is around 2,500-3,000 men. Irrespective of the numbers. he said, they are still in heavily fortified positions which they have been preparing for years. They will be ready for the fight.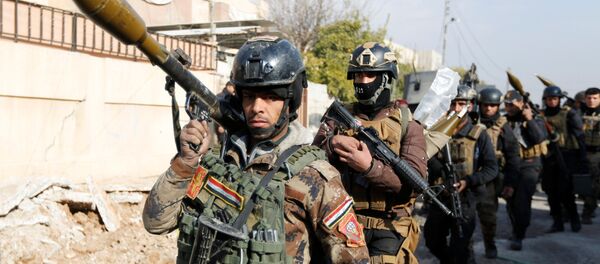 19 February 2017, 22:26 GMT
"If you look at Daesh and other extremist organizations in Iraq, the way they have been operating before was an asymmetric warfare, guerilla warfare, very much "hit and run", organizing suicide bombings in densely populated area, sometimes car bombs with a suicide bomber involved," he said.
"And as we've seen over the past six months or so, there were always deadly attacks in Iraqi cities that had no real Daesh presence. So the chances of them actually disappearing because of Mosul being recaptured are slim. As I've argued elsewhere previously, Daesh would simply revert to asymmetric warfare. They know in advance that they would lose Mosul. There is probably no Daesh commander who is honestly thinking that he is going to hold Mosul. It is just a matter of making it as deadly and as costly for the Iraqi army as possible," he finally stated.