MOSCOW (Sputnik) — Most cases of vandalism against Russia's military burial sites over the past two years took place in Poland, with a total of 51 cases, Vladimir Popov, the Russian Defense Ministry's official in charge of memorializing those fallen in defense of the homeland, said on Tuesday.
"Mainly such cases took place in Poland – 21 cases of vandalism [in 2016], with 30 in 2015. In Hungary, there were three cases of desecration [in 2016], six in 2015," Popov said in his speech during parliamentary hearings.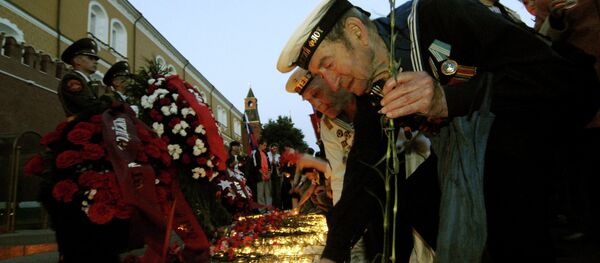 Popov underlined that the total number of vandalism cases decreased from more than 50 cases in 2015 to less than 30 in 2016. He added that the Russian side conveyed official notes to the governments of those countries where vandalism took place, adding that the damage caused by vandals was usually quickly repaired by the local authorities.
This, however, did not include the five memorials demolished in Poland, which were built outside the cemetery sites, Popov stressed.
"Polish authorities' attitude toward the memorials of Soviet warriors causes the biggest concern," Popov explained.
Among the countries that managed to completely prevent vandalism acts against the Russian military cemeteries, apart from Germany, are Romania, the Czech Republic, the United States and China, he noted.